A top Navy official confirmed the service aims to buy the first new Light Amphibious Warship (LAW) by late 2022 to help add maritime options to the future fleet.
"My suspicion is that we'll begin RDT&E next year. And that we are aiming at lead ship construction in FY '22. It's going to be late in FY '22. But I still consider that pretty fast. We're just going to build one, get that out and start playing with it. We'll probably build one the next year, because we got to get the doctrine right," Marine Maj. Gen. Tracy King, Director, Expeditionary Warfare (OPNAV N95), said during a press call before this week's Surface Navy Association symposium.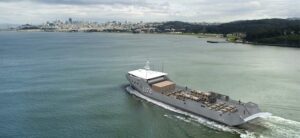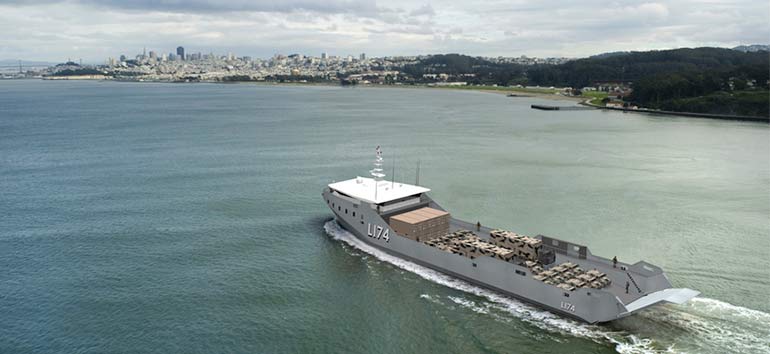 King said the program is currently going through a formal Joint Capabilities Integration and Development System (JCIDS) now and Naval Sea Systems Command has completed its second set of industry studies.
"I got a chance to brief the CNO and the commandant recently and they told me to maintain course and heading."
King reiterated the LAW effort aims to copy some of what the Navy did with the Constellation-class frigate procurement process.
"I just the stole the playbook and we're following that playbook," he said.
Last month, a government notice said the Navy intended to issue an unrestricted solicitation for concept studied and preliminary design for LAW in the first quarter of fiscal year 2021, which ended in December. The notice said the service intends to award multiple contracts, with concept studies expected to be awarded in FY '21 and a preliminary design option also awarded before the end of FY '21 (Defense Daily, Dec. 9).
The LAW is intended to support the Marine Littoral Regiment (MLR) by transporting up to 75 Marines at a time up to 3-4,000 miles while also holding excess cargo and fuel.
In an industry Q&A as part of a LAW Request For Information notice published in May, the service intends to buy up to 30 LAWs that should cost "several-digit millions" but under $100 million each (Defense Daily, May 6, 2020).
King said the MLRs are going to start getting online around the same time as the LAW, so they will first work together.
"First one is on Hawaii, so we'll get it out there and let them play with it. And then we'll go into a build profile of… I don't know, probably four or five a year, something like that is what we're going to aim for."
King said currently the Navy is working with 10-11 industry partners that are competing with "very novel designs."
Next year, King expects the office of the Assistant Secretary of the Navy for Research, Development and Acquisition to downselect to three finalists for a full design contract using RDT&E funds.
"And then we'll pick one toward the end of the year and then build the first one. I think we're on track, I think we're moving out smartly."
King emphasized LAW will be a "lily pad" operating from shore to shore and not a forcible entry platform or ship-to-shore connector the Navy can use to "really complicate China's calculus."
During the symposium, King added the LAW will be able to make water, Marines will bring their own food, hold minimally 8,000-12,000 thousand feet of cargo space, and operate upward of 30 days.
Compared to ship to shore vessels, "the Marines are going to be able to live on it and operate from it and move around on it and then get back on it because she's going to be beachable. So I'm not concerned about the endurance."