The Missile Defense Agency (MDA) said it completed construction and installation of radar arrays for the Long Range Discrimination Radar (LRDR) and started initial fielding during a ceremony on Monday.
The LRDR, built by Lockheed Martin
[LMT] and estimated to cost about $1.5 billion for development and deployment, is based at Clear Air Force Station in Clear, Alaska.
The LRDR is an S-Band gallium nitride radar that seeks to add sensor capabilities for the Ground-based Midcourse Defense System that defends the U.S. from ballistic missiles. Measuring 60 feet tall by 60 feet wide, it is intended to add capabilities for improved tracking and discrimination of incoming vehicles and decoys or non-lethal objects.
MDA said once it is fully operational, the radar will be able to simultaneously search and track multiple small objects at very long ranges under continuous operation, including all classes of ballistic missiles and contribute to space domain awareness.
The agency said LRDR will be capable of detecting, tracking and identifying active and inactive satellites as well as spent rocket bodies and fragmentation debris.
"Its discrimination capability will allow it to identify lethal objects, such as enemy warheads, and differentiate them from non-lethal decoys. This will increase the defensive capacity of the homeland defense interceptor inventory by conserving the number of Ground-Based Interceptors required for threat engagement," the agency said in a statement.
"Today marks an extremely important milestone for U.S. homeland defense. The Long Range Discrimination Radar has finished construction, and we can now begin the testing phase that will lead to the full operational use of this vital system. LRDR will allow Northern Command to better defend the United States from ballistic and hypersonic missile threats," MDA Director Vice Adm. Jon Hill said in a statement.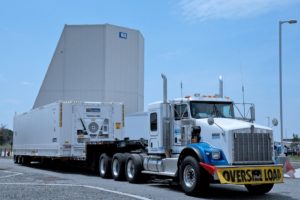 MDA confirmed that in future configurations the LRDR will be able to target hypersonic missiles.
Targeting hypersonic weapons is not a driving requirement of this first increment of LRDR, but adding that will only require software upgrades. If Northern Command, as the combatant command, tells MDA they want LRDR to conduct hypersonic weapon tracking that can be rolled into the second increment as a warfighter requirement, Hill told reporters following a ceremony on Dec. 6.
The LRDR will next work to integrate into the Ground-based Midcourse Defense (GMD) system and Command and Control, Battle Management and Communications (C2BMC) during 2022 before moving to operational acceptance by the Air Force in 2023, Hill said.
He confirmed LRDR has begun ground testing before moving to flight testing.
"So we're in the middle of that ground testing now and it's pretty complex. When you think about the new capabilities that a long range discrimination radar brings into the overall ground-based missile defense system, all the upgrades that we're doing with the GMD system, the upgrades we are doing to the C&C, we sort of just start that. That ground test campaign is going on now that will lead to a development test, followed by an operational test and what we'll do is we'll fly a representative threat model across the face of the LRDR – so we can get that track from a development test," Hill told reporters.
Hill also said Lockheed Martin conducted a successful test using one of the LRDR secondary arrays to track several satellites over a 40-minute period.
The tests were a "really great way to take advantage of targets of opportunity. When you have fast moving satellites in space, which means you're talking extended ranges and moving at incredible speeds and building tracks on those – that's why the team moved forward to do that. And that was done about two weeks ahead of the normal schedule."
This initial fielding came after various delays to the system due to the COVID-19 pandemic. MDA originally planned to field the radar system in fiscal year 2021 and then transfer it to the Air Force by FY '22.
Construction and integration activities of the Long Range Discrimination Radar (LRDR) first stopped in March 2020 due to the pandemic, pushing back the system's initial fielding and transfer to the Air Force into late fiscal year 2023, a Government Accountability Office (GAO) report said last year (Defense Daily, Aug. 10, 2020).
That month, Hill said work had restarted and arrays for the system were being delivered, with the agency planning on a full power test later that year.
However, last March, head of U.S. Northern Command, Air Force Gen. Glen VanHerck, said a power up was occurring in April and DoD aimed to reach initial operational capability (IOC) in September (Defense Daily, March 16).
At the time, VenHerck said he told MDA his top priority was to have no additional slips in delivery of LRDR.
In October, MDA confirmed the initial fielding was pushed back again three months to December, due to further COVID-19 delays (Defense Daily, Oct. 28).