The Missile Defense Agency (MDA) Tuesday chose industry teams led by Lockheed Martin [LMT] and Northrop Grumman [NOC] for initial technology development and risk reduction contracts for the Next Generation Interceptor (NGI) over incumbent Boeing [BA].
The NGI program aims to replace the cancelled Redesigned Kill Vehicle (RKV) program that was scrapped due to significant technical issues leading to schedule and cost increases. Boeing previously served as the prime contractor on RKV, working alongside Raytheon Technologies [RTX] as subcontractor to develop the particular interceptor.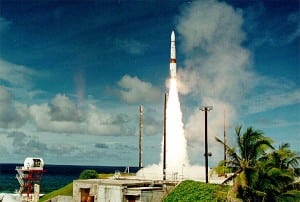 The NGI program aims to replace and improve both the rocket booster and kill vehicle in the Ground-based Midcourse Defense (GMD) Ground Based Interceptors (GBIs). GMD is based in Fort Greeley, Alaska and Vandenberg Air Force Base, Calif.
MDA released the NGI Request for Proposals in April 2021, intending to award two contracts for simultaneous development of NGI options at least through the critical design period. Later in development MDA plans to downselect to one design (Defense Daily, April 24, 2020).
Under the latest announcement, the Lockheed Martin team won a contract worth $2.45 billion with options of another $1.25 billion, totaling $3.7 billion if all options are exercised.
Similarly, Northrop Grumman team won a $2.63 billion base contract with options worth $1.2 billion, totaling $3.9 billion total if all options are exercised.
The announcement noted initial program funding for both contracts combined is $1.6 billion through fiscal year (FY) 2022.
The announcement said that in alignment with the current missile defense strategy, both companies "will perform technology development and risk reduction of the Next Generation Interceptor (NGI) All-Up-Round capable of surviving natural and hostile environments while countering emerging threats."
"Allowing a technology development phase will help ensure that the NGI is an efficient and effective part of an integrated Missile Defense System solution by permitting the department to further analyze requirements and make necessary adjustments in preparation for the product development phase," the statement continued.
In a statement, the Defense Department said the contract award "is structured to carry two designs into the technology development and risk reduction phase of the acquisition program to reduce technical and schedule risk. This award will ensure NGI is an efficient and effective part of an integrated Missile Defense System (MDS) solution. "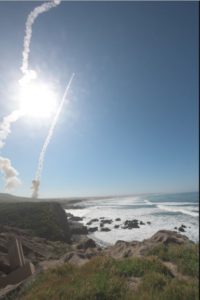 "Today's awards are an important step in modernizing our Missile Defense System. NGI plays an important role in our homeland defense, and our acquisition strategy is ensuring the department maximizes innovation to keep pace with rapidly advancing threats," Stacy Cummings, performing the duties of Under Secretary of Defense for Acquisition and Sustainment, said.
"NGI is the result of the first holistic technical assessment of homeland defenses the department has conducted since initial system operations began in 2004. By planning to carry two vendors through technology development, MDA will maximize the benefits of competition to deliver the most effective and reliable homeland defense missile to the warfighter as soon as possible," MDA director Vice Adm. Jon Hill said.
"Once fielded, this new homeland defense interceptor will be capable of defeating expected threat advances into the 2030s and beyond," he added.
Work under both contracts will occur in Huntsville, Ala. and Sunnyvale, Calif., with a performance period lasting from March 2021 to August 2025. $292 million in FY '21 research and development funds is obligated at award time for each winner.
Last October, Lockheed Martin said it was teaming with Aerojet Rocketdyne [AJRD] to power the primary propulsion system on NGI. The company said its interceptor is being designed from the ground up to address environmental survivability (Defense Daily, Oct. 16, 2020).
At the time, Aerojet Rocketdyne noted it has provided propulsion for the GMD since it began
Separately, last May Northrop Grumman announced it was partnering with Raytheon on its own NGI bid (Defense Daily, May 8, 2020).
In September, Boeing revealed its team included General Atomics and Aerojet Rocketdyne, with Northrop Grumman serving as a component supplier (Defense Daily, Sept. 24, 2020).
MDA previously said it expects the total cost of designing, developing and fielding the total 20 planned NGIs to be over $11 billion. Testing is expected to start in 2025-26 and interceptors are planned to start being placed in silos by 2027-28.