In a hotly contested competition, the Navy on Monday selected Leonardo's AgustaWestland to produce and deliver the new TH-73A Advanced Helicopter Training Systems as the new Navy trainer.
Other competitors for the Navy trainer included the twin-engine Airbus H135 and Bell [TXT] 407GXi single engine, a descendant of the TH-57 Sea Ranger legacy training helicopter getting replaced. The service noted it received five offers.
This $176 million contract covers production and delivery of 32 aircraft, spares, various support and ancillary equipment, and training. The work will be split among Philadelphia (87 percent); Mineral Wells, Texas (5 percent); and various sites outside the continental U.S. It is expected to be finished by October 2021.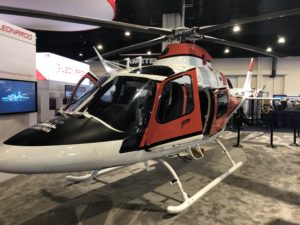 The service is expected to eventually procure up to 130 aircraft. The TH-119 offered by Leonardo is derived from the company's AW109 Trekker and features a four-screen all-glass Genesys Aerosystems cockpit.
In September, Leonardo said it will build a 100,000 square foot comprehensive customer support center next to Naval Air Station Whiting Field in Florida if it won this contract (Defense Daily, Sept. 25).
In July, the Federal Aviation Administration cleared the TH-119 to fly in inclement weather under instrument flight rules (IFR), which allows a pilot to fly in bad weather with limited visibility using only onboard avionics and navigation equipment. At the time, it was the first single-engine helicopter to earn the certification in decades (Defense Daily, July 18).
The Navy is on a quickened timeline to buy the new helicopter trainers and divest its existing TH-57 fleet by 2023, which began operations in the early 1980s. The award was originally expected in November.