Sen. Jim Inhofe (R-Okla.), the top Republican on the Armed Services Committee, will retire from his seat at the end of the current congressional session.
Inhofe, 87, officially confirmed his decision in an interview with The Oklahoman
published on Friday morning, where he also endorsed Luke Holland, his chief of staff, to be his successor.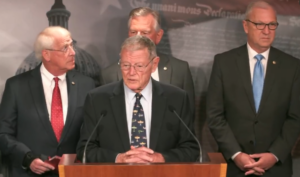 "I didn't make a solid decision until two or three weeks ago," Inhofe told The Oklahoman. "There has to be one day where you say, 'All right, this is going to be it.'"
Inhofe's planned exit, which was first reported by the New York Times, is a major departure for SASC, where the Oklahoma Republican has been a vocal proponent for increased defense spending, securing nuclear modernization funding and implementing policies to adhere with the 2018 National Defense Strategy.
During the markup for the fiscal year 2022 National Defense Authorization Act, Inhofe was a lead voice in pushing for boosting the topline by nearly $25 billion, which was eventually adopted as part of the defense policy bill (Defense Daily, July 22 2021).
Inhofe had previously called Biden's defense budget request "wholly inadequate" and said "it's disingenuous to call [the president's] request an increase because it doesn't even keep up with inflation — it's a cut" (Defense Daily, May 28 2021).
His tenure as SASC's ranking member has been marked by a good working relationship with Sen. Jack Reed (D-R.I.), the committee's chairman, with the two often remarking on their bipartisanship to ensure policy initiatives, such as annual passage of the NDAA.
Inhofe previously served as the acting SASC chairman in place for John McCain (R-Ariz.), while the former Arizona senator was away from Congress fighting brain cancer in 2018, and then held that role in a permanent capacity through 2021.
Following Inhofe's departure in the next Congress, Sen. Roger Wicker (R-Miss.) would be in line to succeed Inhofe as the top Republican on the Armed Services Committee.
Wicker, an advocate for Navy programs and shipbuilding initiatives, is also the ranking member on the Senate Commerce Committee and would need to decide on taking the leadership role between the two panels.
Sen. Deb Fischer (R-Neb.), a proponent for nuclear modernization funding, is next in line behind Wicker in terms of seniority on the Armed Services Committee.