The vice chairman of the joint chiefs said Wednesday he remains an advocate for a space-based sensor layer to bolser capabilities and reduce costs for missile defense as well pushing for improved requirements to get a next-generation kill vehicle "sooner rather than later."
Air Force Gen. John Hyten, the second highest-ranking military officer, told attendees during an online Hudson Institute event that the future Long Range Standoff Weapon cruise missile could be delivered early if supply chain and certification challenges are addressed.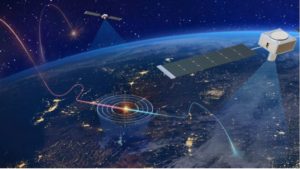 Hyten was asked about potential future funding increases for the Hypersonic and Ballistic Tracking Space Sensor (HBTSS) program to ensure DoD is able to build out a space-based missile defense layer capable of tracking future threats, such as hypersonic weapons.
"I won't share the internal budget deliberations inside the Pentagon because we're going through those on right now, but my desire is to advocate strongly, from the position of the vice chairman, in making sure that we get a space layer funded in the future so that we can actually see and characterize these threats on a global perspective," Hyten said.
HBTSS aims to augment the military's early missile warning satellite constellations like the Space-Based Infrared Sensors (SBIRS) and forthcoming Next-Generation Overhead Persistent Infrared (OPIR), and last November four companies won $20 million contracts to develop prototype payload designs (Defense Daily, Nov. 1 2019).
Hyten also said HBTSS can act as a cost-saving measure in the long-term and will be critical for eliminating missile defense "blind spots."
"The other piece, that I think is overlooked many times, is that when you build a multi-billion dollar radar and you build another multi-billion dollar radar and another multi-billion radar pretty soon you've spent a lot of money and you still have holes in your sensor architecture," Hyten said. "If you build a space layer you eliminate the holes. And, in the long term, that will actually save you money."
On the Missile Defense Agency's Redesigned Kill Vehicle effort, Hyten said he was disappointed to see the program canceled, while adding the Joint Requirements Oversight Council is working now to "put realistic requirements on the table" for when it's restarted.
"When we look at those requirements, we felt like in a number of areas, without getting into the classified details, that we over-specified what was really needed. And we were going to put risk into the program that could have pushed the date out for that capability," Hyten said. "Sooner [than later] in some cases is more important than exquisite in the long-term. We have to be able to build incrementally as we go along. We can't just wait and have this magic capability developed in 15 years and that's going to last for 20 years, because that does not work with the adversaries we face."
A recent GAO report found MDA was warned numerous times about problems with the RKV program as costs more than tripled before it was terminated (Defense Daily, July 23).
Hyten was also asked about the possibility of accelerating the timeline for LRSO, the future nuclear air-launched cruise missile, saying it could be possible but is hindered by supply chain challenges and the slow nuclear certification process.
"Challenge number one, and it's been exacerbated by COVID, is that we have a fragile industrial base, especially when you get below the prime contractors in America. The country has seen that our supply chain, in many cases, goes back to Asia, goes back to China," Hyten said.
The head of Air Force Strike Command said in April that there's a chance LRSO, which is being built by Raytheon [RTN], could be delivered early ahead of its planned 2030 timeframe (Defense Daily, April 29).