The top executive at HII's Ingalls Shipbuilding [HII] this week said the company is very interested in being a second shipyard for the new Constellation-class frigate and is hoping for stability in the amphibious shipbuilding budget.
Kari Wilkinson, executive vice president and HII and president of Ingalls, told reporters at the Surface Navy Association's annual symposium on Jan. 10 that the company has invested nearly $1 billion into the Pascagoula, Miss., shipyard over the last three to five years and they are now fully modernized and ready to take on anything the Navy awards it.
She argued there is a "tremendous amount of opportunity" to add work with the yard's East Bank space, which they are currently using for unit fabrication, some assembly-type efforts and parking completed ships after trials.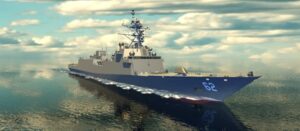 Wilkinson said Ingalls has just one pier on the East side of the facility so there is "opportunity for further investment and capitalization."
Ingalls is set to wrap up production on the Coast Guard's National Security Cutters (NSC) in 2025 to 2026 and she said they are very open to new opportunities to succeed it and retain the skilled workforce at current levels, like as a second build yard for the frigates.
"Frigate second build yard is of great interest to us, obviously, if the Navy chooses to pursue that route. And we're at the ready to support it. And we're very interested in that program. So we're always looking further afield and making sure we're having all the right conversations," Wilkinson said.
"Because…facilities can come and go, you can recapitalize facilities, people are a much different proposition, right. And they're so important and the engine is just an engine and is just brick and mortar and, you know, it has potential, but people are what bring the light to the shipyard and so we want to keep them at all times," she continued.
Ingalls previously lost to Fincantieri Marinette Marine to build the frigates and Austal USA for the Coast Guard offshore Patrol Cutter.
Fincantieri started building the first frigate, FFG-62, in August. At the time, Rear Adm. Casey Moton, Program Executive Officer for Unmanned and Small Combatants (PEO USC), told reporters there is no set timeline for when the Navy could decide to add a second shipyard for frigate production (Defense Daily, Aug. 31).
The Navy will first have to order a Technical Data Package (TDP) at some point in the initial 10-ship contract period, which will have the information to allow the service to assign another manufacturer to build the vessels too. At the time, Moton said it would take about a year for Fincantieri to produce the TDP, starting once the Navy orders it.
Wilkinson also said an ideal pace for the shipyard to stay closer to peak efficiency would be to have San Antonio-class amphibious transport dock ships (LPDs) to be built at a rate of roughly two year centers, America-class amphibious assault ships (LHAs) continuing on four year centers, Flight III Arleigh Burke-class destroyers continuing at nine to 12 months centers, "and we'll look at any other opportunities that they would like us to look at."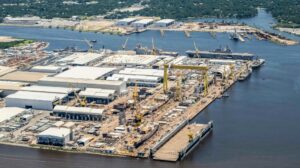 Centers in shipbuilding translates to the pace at which ships are bought and later built, which is closely related to the shipbuilder's ability to hire and retain a suitable workforce, which in turn is connected to Navy contracting and setting up longer term patterns for the yard and its suppliers to plan for.
"Capacity will be defined differently by any yard you ask. In some cases, you're going to talk about facilities, in some cases, you're going to talk about a specific skill set. In some cases, you're going to talk about depth of water and pier etc, etc. And a lot of people right now are talking about people, so keeping people and spending a lot of time on people. And how do we attract and retain shipbuilders? It's an industry that's so critical to our national security, to the country, its manufacturing."
Wilkinson said regular centers for LPDs, LHAs, DDGs, and something new when NSC is finished, like the frigates, would be " a great profile for us. And so, we like a profile that stretches out."
She said that currently LPDs have been on 18 to 24 months centers, destroyers remain on a regular cadence, and LHAs have been 36 to 48 months centers.