The House Armed Services Committee is seeking more information from the Army on its acquisition strategies for the Joint Light Tactical Vehicle (JLTV) and new Enhanced Night Vision Goggle-Binocular (ENVG-B) devices.
The panel adopted two provisions to its version of the next National Defense Authorization Act (NDAA) as part of an amendment package that calls on Army acquisition officials to brief how the service plans to manage industrial base risk for both programs.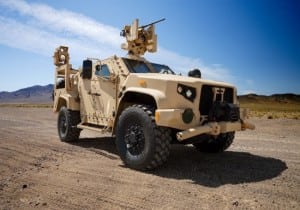 For JLTV, Rep. Mike Gallagher (R-Wis.) introduced an amendment for the Army to reassess the health of its industrial base for light tactical vehicles and present the panel with a business case for its plan to hold a full and open competition for the program's next production contract.
"The committee is concerned, however, that Army leadership's decisions over the last three years have failed to provide stable funding to support documented production plans and introduced avoidable risk within the JLTV supplier base," Gallagher wrote in his amendment,
HASC's version of the NDAA includes an $89 million cut to the JLTV program, authorizing a total of $486 million, citing the requested funding as "early to need."
Oshkosh Defense [OSK], which manufactures JLTV in Gallagher's home state, said recently it has "no plans to stop building the [vehicle] anytime soon," as the Army eyes potentially awarding the recompete contract in 2022 (Defense Daily, July 1).
The JLTV re-compete effort has drawn at least one other public competitor, with GM Defense [GM] detailing plans to line up partners and ensure it has the full supply chain of parts necessary to go after the production contract (Defense Daily, May 4).
For ENVG-B, Rep. Joseph Morelle (D-N.Y.) introduced the amendment calling on the Army's top acquisition official to brief HASC on plans for future competition in the program and how the service is ensuring that innovations to the new night vision devices can be rapidly manufactured.
Specifically, the Army would be required to provide an update on testing and fielding timelines, funding profiles and acquisition objectives for ENVG-B.
Last October, L3Harris [LHX] and Elbit Systems of America each received production contracts worth potentially $442 million to deliver ENVG-B devices as the Army looks to replace its legacy monocular night division devices with a system designed for enhanced mobility, networked connectivity and upgraded thermal engaging technology.
The House Armed Services held its full committee markup of its version of the NDAA on Wednesday, but had yet to vote on final passage as of Defense Daily's deadline.