A group of Republican senators filed an amendment Tuesday to the newly proposed $3.5 trillion budget resolution that would add $50 billion in defense-related spending, their second attempt after the language didn't receive a vote during debate on the bipartisan infrastructure bill.
The amendment led by Sen. Richard Shelby (R-Ala.), the top Republican on the Appropriations Committee, along with Sens. Jim Inhofe (R-Okla.), the Armed Services Committee ranking member, and SASC Member Roger Wicker (R-Miss.) will be considered on Tuesday evening during the Senate's 'vote-a-rama' for the budget resolution.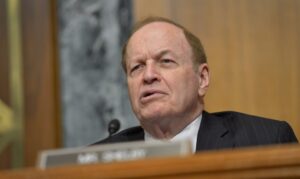 "President Biden's defense budget proposal was woefully inadequate, and Senator Sanders' and the Senate Democrats' reckless tax-and-spend budget continues these misguided efforts to shortchange national defense funding when we can least afford it," Inhofe said in a statement. "Senator Schumer didn't allow a vote on this amendment during the infrastructure debate, but there's no stopping amendments during vote-a-rama."
Senate Democrats on Monday detailed their proposed $3.5 trillion budget resolution, which includes calling for a total $765.7 billion fiscal year 2022 defense budget and one to two percent defense spending increases in the coming years (Defense Daily, August 9).
"Democrats are all too willing to neglect our defense infrastructure needs while spending hand over fist on their liberal wish list. This so-called budget proposal is yet another example of that. Supporting trillions of taxpayer dollars for other infrastructure and social programs without investing in our national defense is shameful and inexcusable," Shelby said in a statement.
The amendment, if adopted, would instruct SASC to report reconciliation legislation that provides for the $50 billion in defense-related infrastructure spending.
The breakdown of the $50 billion in funding in the amendment remains unchanged from the first attempt, to include $25.4 billion included in the amendment for Navy and Coast Guard shipyard infrastructure improvement (Defense Daily, August 5).
The senators' amendment also includes $4 billion to "help reduce the backlog of facility infrastructure projects," with the Army, Air Force and Navy each receiving $1.3 billion and the remaining $100 million going to the Defense Health Agency.
Additionally, it includes $4 billion for modernization of test and training ranges, $2 billion for high-priority military construction projects, $4.5 billion for depot modernization, $2.5 billion for ammunition plant modernization, $2.5 billion for 5G wireless networking technologies and $3.9 billion for defense activities at the Department of Energy.