The Navy's top acquisition official said on Wednesday that the window for innovating in Defense Department acquisition is "closing," so officials should push to change the culture and value those who try new ideas.
Speaking at a Strategic Institute conference on Other Transaction Authorities (OTAs), Assistant Secretary of the Navy for Research, Development, and Acquisition James Geurts said while some acquisition executives are comfortable moving in a more innovative way that decentralizes responsibilities, "that has not always been the case, not any fault of any individual, just the timing wasn't right."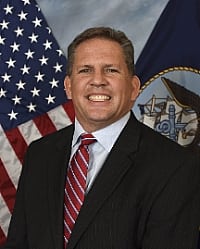 "But the window's closing," he warned.
Geurts said this is not an administrative window and not due to the Trump administration.
"It's these things have about a four or five-year pattern and the window is open, it's been open for about two and a half years," he said. "We've been slow to capitalize on it, and that window will start closing down for a bunch of different reasons."
After the conference, Geurts further clarified to Defense Daily that he was referring to business cycles where there is a tightening of reporting and oversight phases followed by a loosening phase with opportunities to accelerate and decentralize.
Geurts said his message to the audience was to get bold and challenge leadership to do things differently while the window was still open.
He admitted "the Navy's very prideful of its expertise, contracting community's very prideful of its expertise, legal community's very prideful of its expertise."
However, "valuing somebody who found an idea from somebody else and implemented it fast is better than the person who invented it. But that's not the way our culture kind of gets. So we're trying to get after that," Geurts said.
Geurts underscored he does not see Congress as a barrier to these changes.
"I would contend 95 percent of our barriers are self-inflicted and culturally reinforced. There's almost nothing, in fact, I can't think of anything right now where I've got legislation preventing me from executing."
He argued that at the leadership level officials need to "be thoughtful and be able to rationalize how you're using the authorities under what kind of intent."
Guerts provided an example of how information sharing and getting past hardened cultures has already yielded results. Virginia-class submarine acquisition personnel were conducting a big multi-year contract for more submarines.
"They had an idea of, we know how much a Virginia submarine costs, we've built a bunch of them. It's a sole source kind of thing, let's just make an offer of what we think the right price is, and we'll get away from the standard RFP (request for proposals) proposal to the same person."
They "tried and failed miserably," he said. "Culture wasn't right." However, F-18 fighter aircraft acquisition personnel heard about it "and they adopted that on an F-18 and we saved 17 months and a bunch of money."
Geurts explained the F-18 officials know what an F-18 costs going into Lot 42, "so why should I spend six months to write an RFP to ask you to give me the data back that I already have so I could use my data to evaluate what I already know. To come to the same place, why don't I just say the data says I'm willing to pay X price, because that's a fair price."
He said this was commercial thinking in a Federal Acquisition Regulation-based model, showing you can mix the two models. It took a commercial model that says as the customer I am willing to pay X because I know that is a fair and reasonable price.
"They saved $5 million of overhead, which we pay for by the way, we saved 17 months, and everybody was great with it. Celebrating those learning moments is probably the biggest thin, whether they succeed or not," Geurts said.
Navy spokesperson Capt. Danny Hernandez told Defense Daily Geurts was referring to the March 2019 $4 billion contract modification to Boeing [BA] for production and delivery of 78 Block III F/A-18 Super Hornets in a multi-year procurement contract. The contract covers six aircraft from fiscal year 2018 and 72 from fiscal years 2019 to 2021 (Defense Daily, March 21).
Given 20 years of production cost history data on the Super Hornet, "our contracts team can very accurately estimate the cost of building the aircraft. We did the legwork of developing our own cost position to submit to Boeing, and with concurrence from senior Navy leadership, saved ourselves six to eight months of process time," Hernandez said.
This is a fixed-price incentive firm target contract type, wherein a target price is identified and both the government and contractors share in any monetary overruns or underruns, Hernandez explained.
Using this method, the Navy acquired a capability "faster and cheaper than we otherwise would have because we did not have to wait for a proposal from Boeing," he added.