The Pentagon experienced an increase in readiness in the ground domain and a decrease in the sea domain in recent years, according to a new Government Accountability Office (GAO) report, with the auditors also pushing for the department to adopt new metrics for measuring full-spectrum operations.
The new report, mandated by the fiscal year 2019 National Defense Authorization Act, examined readiness between FY '17 and '19 and cited a range of ongoing readiness challenges across the warfighting domains.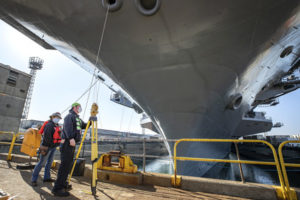 For the sea domain, which experienced a decrease in both resource and mission capability readiness during that span, GAO cited the "limited maintenance capacity at private and public shipyards as the primary challenge for recovering ship and submarine readiness."
In the air domain, GAO cited readiness challenges due to Hurricane Michael's impact on infrastructure for the Air Force's F-22s, pilot shortages for the Army's AH-64 Apache helicopters and limited depot repair capacity for the Marine Corps' light attack helicopters.
For space, which received a "mixed" readiness rating along with air and cyber, the report notes readiness concerns due to DoD not tracking the readiness of units conducting unique space missions and on overall lack of clarity into the readiness of key space capabilities.
The report does not include specific examples that contributed to the determination that ground domain readiness had increased during the two-year period.
GAO's report also reiterated its call for DoD to adopt a new method for measuring readiness of full-spectrum operations and cross-domain capabilities, noting it reported the recommendation in May 2019 but the Pentagon said such metrics were already captured in its Readiness Recovery Framework.
"We continue to believe our recommendation is valid because cross domain operations include capabilities from all five domains that are no longer owned by any single military service. Each service operates across multiple domains," GAO wrote in its report. "Monitoring readiness recovery only at the service level may miss key readiness issues in the capabilities of the joint force."