Secretary of Defense Mark Esper on Wednesday said the new Navy future fleet plan will have over 355 ships and require billions more in annual shipbuilding.
Last week, Deputy Secretary of Defense David Norquist said he was presenting the findings of a top-level future naval forces study to Esper this week after being asked to conduct it earlier this year. The study included officials from the Navy, Marine Corps, Joint Staff, Office of the Secretary of Defense, and outside advisers (Defense Daily, Sept. 11).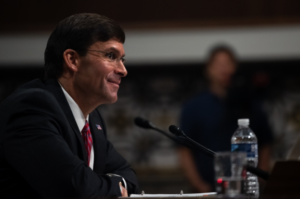 According to prepared remarks while speaking at a RAND event Wednesday, Esper said the review's results are a "game-changer that reflect a good deal of serious work and effort based on facts and data."
He underscored the study will serve as the department's guidepost as it programs and builds the future fleet and conducts follow-on assessments.
Esper said the fleet will be over 355 ships, including both manned and unmanned vessels, to be "built in a timely, relevant, and budget-informed manner. And we will build this fleet in such a way that balances tomorrow's challenges with today's readiness, and does not create a hollow Navy."
In order to accomplish this, Esper said DoD will have to increase its shipbuilding funding.
"This means we must get back to the same levels of spending dedicated for shipbuilding in the Navy budget that the sea service committed during the Reagan era – 13 percent, as compared to today's 11 percent. This is something both the Secretary of the Navy and I are committed to pursuing."
The Navy requested $19.9 billion in shipbuilding funds in DoD's FY '21 budget request within an overall budget request of $207 billion, almost 10 percent of the Navy's total budget before including items under research and development or other procurement categories. (Defense Daily, Feb. 10).
This was a decrease compared the Navy's request of $22.2 billion in the FY '20 budget request and Congress' final FY '20 defense appropriations bill providing $24 billion (Defense Daily, Dec. 17, 2019).
Increasing shipbuilding by two percent would be an increase of several billion dollars per year.
Esper provided few details, but said the fleet will have key attributes of distributed lethality and awareness, survivability in a high-intensity conflict, adaptability, ability to project power and demonstrate presence, and capability to deliver precision effects at very long ranges.
"This fleet will be need to be marked by more and smaller surface combatants; optionally manned, unmanned, and autonomous surface and subsurface vehicles; unmanned carrier-based aircraft of all types; a larger and more capable submarine force; and a modern strategic deterrent," he said.
While the fleet will require more shipbuilding, he said it still "must be affordable in an era of tight funding; sustainable over the long term; and operationally available at higher rates," he added.
Esper explained Norquist's Future Naval Force Study was tasked with assessing a more ambitious range of future fleet options than the Navy previously looked at in its Integrated Naval Force Structure Assessment (INFSA). This involved examining the current fleet, exploring future fleet options to retain dominance in 2045, and wargaming the options.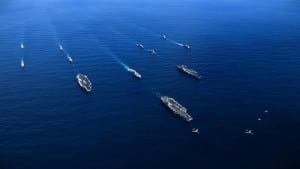 He highlighted the future frigate, FFG(X), as an example of where the Navy is moving.
In April, the Navy awarded Finctantieri's Marinette Marine a $795 million detail design and construction contract for the first new frigate along with options to buy another 9 vessels. If all of the contracts are exercised, the total value increases to $5.6 billion (Defense Daily, April 30).
The Navy expects to eventually buy 20 frigates.
Esper reiterated the frigates "will support the National Defense Strategy across the full range of military operations, with increased lethality, survivability, capability, and capacity to conduct distributed warfare—a key requirement borne out by the Future Fleet study."
Esper couched the Navy study results in response to the recent annual Pentagon report on China's military developments, which found China already has the largest Navy in the world with about 350 ships and submarines. In comparison, the U.S. has 293 battle force ships as of early 2020 (Defense Daily, Sept. 1).
"The Chinese Communist Party, specifically, intends to complete the modernization of its armed forces by 2035. By 2049, it aims to dominate Asia as a world-class military. In addition to developing advanced weapons systems, Beijing is also investing in long-range, autonomous, and unmanned submarines, which it believes can be a cost-effective counter to American naval power," Esper said Wednesday.
However, the secretary stressed despite increasing ship numbers, China does not have parity compared to the U.S. Navy.
"Even if we stopped building new ships, it would take the PRC years to match our capability on the high seas. Simple ship numbers don't address the capabilities of the vessels being counted, nor the crews that man them. Nonetheless, we must stay ahead; we must retain our overmatch; and we will keep building."
Esper's direction to Norquist considerably delayed the Navy submitting its annual 30-year shipbuilding plan and INFSA to Congress, which was due with the FY '21 budget request.
In February Esper told the House Armed Services Committee he first wanted to see the plans and "once I have had a chance to review it and digest it … at the appropriate point in time, I will share with you what I believe our future force structure should look like" (Defense Daily, Feb. 26).
However, in March former Acting Navy Secretary Thomas Modly confirmed Norquist's review (Defense Daily, March 26).
The House Armed Service Committee has expressed significant irritation at the delay in the fleet plans.
The panel inserted provisions into the House's FY '21 defense authorization bill that would restrict 75 percent of the Secretary of Defense's operation and maintenance funds, largely impacting travel, as well as restrict all ship retirements until the plans are delivered to Congress (Defense Daily, June 23).