The Pentagon's inspector general is conducting an audit of the Army's potential $22 billion Integrated Visual Augmentation System (IVAS) headset program.
"The objective of this audit is to determine whether Army officials are producing and fielding Integrated Visual Augmentation System units that meet capability requirements and user needs. We may revise the objective as the audit proceeds, and we will also consider suggestions from management for additional or revised objectives," the DoD IG's office wrote in an Oct. 4 memo
.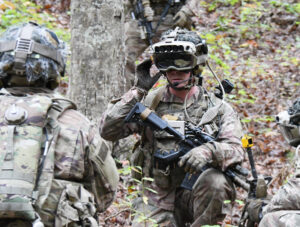 The program audit, first reported by Janes, is occurring at the same time as the Army has confirmed it will delay IVAS' operational evaluation to next May and the first unit equipped date to September 2022 (Defense Daily, Oct. 14).
Karen Saunders, the Army's acting top acquisition official, and Gen. Mike Murray, the head of Army Futures Command, released a joint statement on Monday acknowledging an issue with the system's waveguide technology that was causing resolution issues.
"At 80 degrees, IVAS pushed the boundaries of waveguide technology capabilities, and the field of view began to lose resolution. By making minor reductions, developers are finding greater quality and clearer visibility," Saunders and Murray said in their statement. "The process will require a little more time, but it will still result in the fielding of a next-generation combat system six to 10 years ahead of the traditional acquisition program timelines."
In late March, the Army awarded Microsoft [MSFT] a deal worth up to $21.9 billion over the next 10 years to move the IVAS program from rapid prototyping into production (Defense Daily, March 31).
"The Army did not halt or stop the IVAS program, and remains committed to getting the best equipment in the hands of our Soldiers as quickly as possible. The shift in the IVAS program will allow the Army and industry team to continue to enhance the IVAS technology platform, ensuring Soldiers achieve overmatch in multi-domain operations," Saunders and Murray wrote.
Saunders and Murray said the new timeline for IVAS will not affect contract agreements for the program.
"Calculated risk and time for adjustment have been baked into our processes, and are vital to rapid Army modernization practices," the two officials wrote.