The Associated of the United States Army will hold its annual conference and expo virtually this fall due to the pandemic, the organization said Tuesday.
AUSA said a four-day virtual meeting will take place Oct. 13-16, and "feature addresses by top Army and national security leaders, professional military forums and presentations by industry."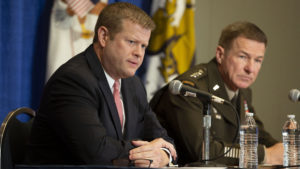 "After careful and detailed consideration, we've made the difficult decision to convert the 2020 AUSA Annual Meeting from an in-person meeting to a virtual experience," Ret. Gen. Carter Ham, president of AUSA, said in a statement. "Based on health and safety considerations and ongoing restrictions on large gatherings, it is not possible for us to conduct an in-person meeting as we had originally envisioned."
The annual AUSA event, typically held at the D.C. Convention Center, features presentations from senior Army leadership and updates on the Army's programmatic and modernization priorities.
"The Annual Meeting is an incredibly important event and one of our favorite ways to celebrate everything that unites us, but health and safety must come first. We are very disappointed that we are unable to hold this event as we had envisioned, but we know it's the right decision," Ham said.