The Army's move to its Future Vertical Lift (FVL) fleet could create $10 billion in annual opportunities for the rotorcraft industry over the next decade, according to a new report, while cautioning the transition could leave lower-tier suppliers increasingly vulnerable.
The Center for Strategic and International Studies specifically highlights growing concerns that smaller companies in the supply chain may have difficulty producing parts for the future rotorcraft fleet as the Army looks to embrace new additive manufacturing, artificial intelligence and advanced electronics.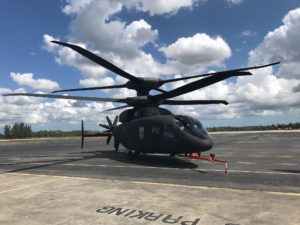 "As [legacy aircraft] production lines wind down, the rotorcraft industry is increasingly seeing larger single points of failure at the lower tiers of the industrial base. While foreign military sales will possibly keep these lines open for another few years, the fate of those lower tier 'mom and pop' parts suppliers is a significant concern," CSIS wrote in its report. "Taken together, these facts suggest that the rotorcraft industrial base of today may not be sustainable in the long-term and that it needs to be optimized and restructured to deliver FVL."
CSIS' report suggests the Army's rotorcraft industrial base may need to "restructure and optimize" for FVL, to include reducing single points of failure and rapidly going after new technologies required to produce operational systems for the future fleet.
"While the rotorcraft industrial base may need restructuring and optimization amongst its four current suppliers, it is in the nation's best interests the Army maintain a robust defense rotorcraft industrial base," the authors wrote. "At a more micro level, it is important to maintain a robust supply chain at the lower levels of the industrial base to avoid single points of failure as much as possible."
In March, the Army selected Bell's [TXT] V-280 Valor and Sikorsky [LMT] and Boeing's [BA] SB-1 Defiant to move forward in its Future Long Range Assault Aircraft (FLRAA) program, which looks to find a replacement for its UH-60 Black Hawks (Defense Daily, March 16).
Later that month, the Army said it selected Sikorsky's [LMT] Raider X and Bell's [TXT] 360 Invictus to continue on in the Future Attack Reconnaissance Aircraft (FARA) program, with each to build competitive prototypes for the Army's next scout helicopter (Defense Daily, March 25).
The report's assessment of $10 billion in annual FVL funds is based on a prediction the Army will acquire around 30 FLRAA and FARA aircraft apiece per year, with costs for spare parts and complex maintenance to make up the majority of the service's vertical lift spending.