The Army has selected four firms to compete for orders to deliver the new Conformal Wearable Battery under a potential nine-year, $1.3 billion deal, the Pentagon announced Wednesday evening.
Bren-Tronics, Inventus Power, Ultralife Corp. and Navitas Systems' advanced solutions group will have opportunities to provide their 150Wh lithium-ion lightweight, rechargeable batteries.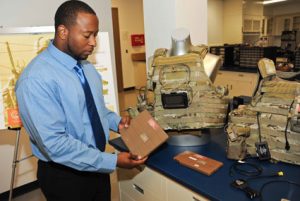 "The Conformal Wearable Battery, or CWB, is a thin, lightweight, flexible battery that integrates seamlessly into a Soldier's body armor. It conforms to the body and can be worn in either the side or chest/back pouches with the ballistic protective plates, virtually invisible and transparent to the Soldier," the Army's C5ISR Center wrote previously. "This innovative power solution significantly reduces the various battery types and quantities the Soldier has to carry, and will reduce the carried battery weight attributed to the size, weight and power, or SWAPs, required to support a mission"
The C5ISR Center said the CWB will weigh just over 2.5 pounds and will be capable of continuous power generation for up to 24 hours, enable sustainment of dismounted operations in remote areas and reduce the need to carry large quantities of spare batteries. 
Work on the deal is expected to be completed by May 2030.