The Army is seeking industry's help on developing a common software framework to enable synchronization of its future electronic warfare (EW) attack capabilities, a lead official said Wednesday.
Col. Daniel Holland, the Army's capability manager for EW, said such a framework will serve as a key enabler for future systems, such as the Terrestrial Layer System-Echelons Above Brigade (TLS EAB) long-range jammer that is required to counter adversaries' emerging emitter technologies.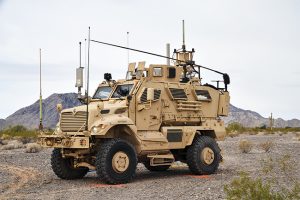 "The Army's requirement is to detect, automatically identify and provide precision geolocation to enable both kinetic and non-kinetic fires on this very fluid, modern battlefield. We want to offer the ability to disrupt adversary communications and other targets, as a major contributor to the commander's attack guidance matrix," Holland said during a C4ISRNET virtual conference discussion. "While we've achieved hardware interoperability, we still have these software silos and a system must be individually programmed even though the systems would be using the same technique to disrupt the target."
Holland noted the Army has addressed establishing common standards for EW hardware components with the C4ISR Modular Suite of Standards (CMOSS) initiative, as well as working on the Photon system to create a framework for EW collections, but is currently lacking a common software framework for EW attack.
The Army Requirements Oversight Council (AROC) is two weeks away from signing off on the TLS EAB Abbreviated Capabilities Document, according to Holland, who said the move to begin rapid experimentation may help enable the development of a software framework.
"Beyond the AROC decision, we're focused on our demonstration, experimentation and prototyping framing guidance which will determine our analysis of alternatives sufficiency necessary to plan our campaign of learning over the next two years,"
In fiscal year 2022 the Army will focus on experimenting with surrogate technologies for TLS EAB before bringing in early prototypes for testing in FY '23, according to Holland.
"We're prioritizing manning and equipping at echelons above brigade, and especially the Multi-Domain Task Forces. The need to win in competition and conflict against a peer adversary with complex emitters really is the main problem," Holland said.