The Army has released its new list of characteristics for the restarted Optionally Manned Fighting Vehicle (OMFV) competition, detailing its broad problem set for the Bradley replacement program to be refined through collaboration with industry.
The characteristics list is the latest step in the Army's renewed OMFV search after canceling the initial competition in January and starting over with a new focus on increasing vendor participation in the vehicle development phase.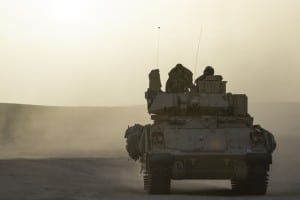 "Industry feedback on the proposed vehicle characteristics, not a defined set of requirements, from both large and small vendors is critical as we continue to move forward on the program," Brig. Gen. Ross Coffman, director of the Army's Next Generation Combat Vehicle Cross Functional Team, said in a statement.
The nine characteristics included in a notice posted Tuesday evening are centered around "survivability, mobility, growth, lethality, weight, logistics, transportability, manning, and training."
Officials are asking for vehicle offerings that can keep pace with Abrams tanks, built on open architecture to allow for rapid technology upgrades, and must be embedded with training capabilities that are compatible with the next-generation Synthetic Training Environment.
Additional characteristics for areas such as weight, lethality and transportability are broad, rather than including specific points such as "two vehicles per C-17" or calling for a turret size.
"The OMFV equipped platoons must defeat future near-peer soldiers, infantry fighting vehicles, helicopters, small unmanned aerial systems, and tanks as part of a Combined Arms Team in rural and urban terrain," officials wrote in the notice. "The OMFV must be worldwide deployable by standard inter- and intra-theater sea, waterway, air, rail, and road modes of transportation."
The Army released a market survey earlier this month to officially restart the OMFV competition, emphasizing the new effort will include collecting industry's thoughts on the characteristics before releasing a request for white papers, and then ultimately selecting five vendors to deliver a "rough digital prototype" of their offerings (Defense Daily, Feb. 7). 
"We want to understand industry's ability to meet the desired characteristics so we can determine what trades may be necessary, while simultaneously allowing industry the freedom to be innovative and creative in producing a transformational increase in warfighting capability," Coffman said. 
A final list of OMFV requirements will only be released once a final vendor has been selected to build prototypes. 
The Army announced in mid-January it would cancel the current acquisition effort for OMFV, which faced scrutiny after a single bid sample from General Dynamics [GD] was accepted for the program's prototype phase, re-focusing on multi-phased approach built around "digital design" with no firm timelines yet for a production decision or fielding.