The president's fiscal year 2022 budget request released last Friday details plans to cut Army spending by $3.6 billion, as the service looks to protect full funding for its future weapon system development by buying less helicopters, upgrading fewer Strykers and Abrams vehicles and cutting another round of lower priority programs.
While the Air Force and Navy received increased toplines in the request, the Army's $173 billion budget represents the "tough choices" senior leaders have forecasted in recent months, to include an 11 percent decrease in total procurement and research spending.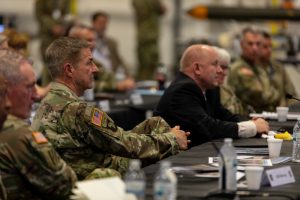 Officials on Friday attributed the decrease in Army spending as a reflection on the withdrawal of U.S. forces from Afghanistan, while the topline number is likely to draw interest from lawmakers who have expressed concern that the service could act as a "bill payer" for Air Force and Navy modernization efforts.
Maj. Gen. Paul Chamberlain, the Army's budget director, confirmed to reporters Friday that the service did not have to adjust the schedules for any of its 30-plus signature weapon systems in development as a result of the tight budget environment.
The potential for that idea was discussed recently by Lt. Gen. James Pasquarette, the Army G-8, who said further reductions to certain legacy and enduring programs would be "very concerning" if the Army is required to continue reallocating its own dollars to ensure future weapon systems are fully funded (Defense Daily, May 14).
The Army was able to boost or keep steady funding across its modernization-focused Cross Functional Teams, which are working to develop platforms such as the Bradley-replacing Optionally Manned Fighting Vehicle, Extended Range Cannon Artillery system and the new Integrated Visual Augmentation System headset.
Major technology investments in fiscal year 2022 to further the Army's modernization push include $1.1 billion for the Future Vertical Lift program, $412 million for development of the Long Range Hypersonic Weapon, $328 million to further the new LTAMDS air and missile defense radar, and $286 million to pursue a new mid-range missile capability.
The Army's latest round of "night court" divestitures resulted in saving an additional $48 million through the cancellation of seven more programs, specifically the Aviators Night Vision Imaging System, Hellfire Missile Launcher, the 2.75-inch rocket launcher, the Lightweight Counter Mortar Radar, the Spider Networked Munition System and the Joint Technology Center Systems Integration.
The most significant cut may be the Multi Function Electronic Warfare jamming pod, which was recently demonstrated at the EDGE 21 joint kill chain experiment, effectively delaying its development.
Chamberlain said the Army can expect more "modest returns" from night court as cuts get tougher in the coming years, with the service having cancelled 105 programs and reduced or delayed another 169 efforts since the FY '20 budget.
"Because of the Army's aggressive efforts the past three years the divestitures identified in FY '22 are modest. However, the Army remains committed to the continuing process of assessing and realigning funding to address gaps in future capabilities," the Army wrote in its budget request.
The move to ensure full funding for modernization, however, was made possible through moves to reduce or delay 37 lower priority programs to save $1.6 billion.
The Army wants to upgrade fewer Strykers and Abrams tanks than it did it in FY '21, spend nearly half as much on UH-60M Black Hawks and AH-64 E Apache remanufactures and once again proposes to buy a small number of CH-47 Chinook heavy-lift helicopters exclusively for its special operators.
The budget request also plans to reduce Joint Light Tactical Vehicle procurement from the FY '21 enacted level of $884 million down to $474 million, as well as once again reducing FMTV truck spending down to $37 million.
Newer programs that received a boost in funding include more than tripling procurement of the new Precision Strike Missile up to 110 systems and looking to purchase more than 12,000 of the new Next-Generation Squad Weapon.