The Army announced Tuesday it is sending two new units to Europe, a Multi-Domain Task Force (MDTF) and a Theater Fires Command, that will look to bolster the region's long-range fires and advanced cyber and electronic warfare capabilities.
The move will send 500 troops to Germany, part of the Pentagon's plan to reverse the Trump administration's decision to pull 12,000 troops out of the country, and arrives as Russia has increased its presence along the border with Ukraine.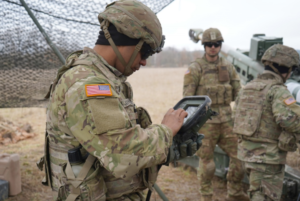 "The Theater Fires Command and Multi-Domain Task Force in Europe will enable U.S. Army Europe and Africa to synchronize joint fires and effects, control future long range fires across all domains and will create more space, cyber and electronic warfare capabilities in Europe," Col. Joe Scrocca, spokesman for U.S. Army Europe and Africa, said in a statement.
This the second MDTF the Army has established, with the first group operating out of the Pacific, and the unit will consist of "field artillery, composite air and missile defense, intelligence, cyberspace, electronic warfare and space and aviation [capabilities] and a brigade support element," according to the Army.
The Army has said it plans to stand up five total MDTFs, including another in the Pacific, one in the Arctic and one in a region as needed, that will be outfitted with advanced long-range fires capabilities and personnel to employ next-generation intelligence and electronic warfare tools for information operations.
The new Theater Fires Command will serve as a new headquarters to "improve readiness and multi-national interoperability by integrating joint and multinational fires in exercises and operations, in support of U.S. Army Europe and Africa," according to the Army.
Last July, the Trump administration announced its intent to pull nearly 12,000 U.S. troops out of Germany, estimating the move would cost several billion dollars, with the decision garnering criticism on both sides of the aisle (Defense Daily, July 29).
"This planned increase in U.S. personnel underscores our commitment to Germany and the entire NATO alliance," Defense Secretary Lloyd Austin said in remarks to Germany's Ministry of Defense announcing the reversal of the previous administration's policy.
A senior Biden administration official also confirmed Tuesday the president will order all troops to be withdrawn from Afghanistan by September 11.
Air Force Gen. Tod Wolters, the head of U.S. European Command, told lawmakers on Tuesday the two new units going to Germany will "improve our ability in all domains to bring fires from the surface-to-surface dimension to increase our ability to deter."
A new unclassified report from the Office of Director of Intelligence released Tuesday assesses the growing threat from Russia to include an emphasis on "new weapons that present increased threats to the United States and regional actors while continuing its foreign military engagements, conducting training exercises, and incorporating lessons from its involvement in Syria and Ukraine."