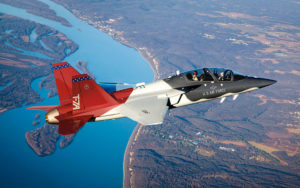 The U.S. Air Force is to install sensors on the military service's fleet of aircraft to manage millions of pieces of information and streamline maintenance under a predictive maintenance enterprise agreement signed with the U.K.-based SDL this month.
SDL said that the agreement will support maintenance and operations personnel with diagnostic checklists and repair procedures and that the predictive maintenance system will interact with other Air Force systems, such as health monitoring, materials management and maintenance management systems. Other high-profile clients using SDL in non-aviation applications include Amazon [AMZN], Nike [NKE], and Ikea.
Under the enterprise agreement with the Air Force, SDL is to provide the SDLContenta Publishing Suite for Technical Order (TO) creation, management and delivery, which includes supporting the translation of technical information into predictive maintenance and analysis data across all Air Force assets.
Thomas Labarthe, SDL's chief revenue officer, said that the Air Force "is a diligent organization, looking to streamline processes and gain maximum efficiencies across its global operations."
As the Air Force's enterprise technical data solution, SDL is to work closely with the Air Force "to deliver efficiencies across its operations," Labarthe said.
SDL said that the Air Force identified the SDL solution as "the only system" that could meet the service's enterprise requirements, as the Air Force's inventory of technical orders is produced from a variety of source formats, including FrameMaker, Standard Generalized Markup Language (SGML), Hypertext Markup Language (HTML), eXtensible Markup Language (XML) and S1000D.
The Air Force Technical Order Authoring and Publishing (TOAP) system is to help manage technical maintenance content in support of all Air Force programs, including the new T-X trainer aircraft program, and various programs aligned under the Air Force Nuclear Weapons Center.