This week the U.K. government awarded BAE Systems a $5 billion contract to build a second group of five more Type 26 frigates for the Royal Navy.
Speaking in Indonesia during a G20 meeting on Nov. 14, U.K. Prime Minister Rishi Sunak first announced the award, connecting the frigate award to Russia's war and activities in Ukraine.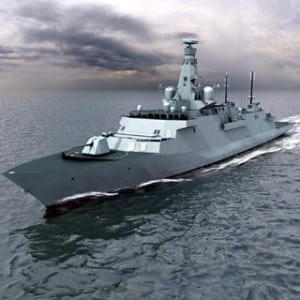 "Russia's actions put all of us at risk. As we give the Ukrainian people the support they need, we are also harnessing the breadth and depth of UK expertise to protect ourselves and our allies. This includes building the next generation of British warships.
These ships, also called City-class frigates, will be named the future HMS Birmingham, Sheffield, Newcastle, Edinburgh and London. BAE is already building three Type 26 ships: HMS Glasgow, Cardiff and Belfast.
The U.K. Ministry of Defense on Nov. 15 said construction of all eight frigates is expected to be finished in the mid-2030s. The first vessel, HMS Glasgow, is set to enter service by late 2028. Steel is planned to be cut on the first of this next batch of five ships, the future HMS Birmingham over the winter of 2022-2023.
The Type 26 ships are meant to replace most of the retiring Type 23 ship fleet, focused on anti-submarine warfare as well as protecting the U.K.'s nuclear-armed ballistic missile submarines and Carrier/Maritime Strike Group via air defense.
Each Type 26 is about 492 feet long, has a range of over 7,000 nautical miles and a top speed of over 26 knots. They will be armed with the MBDA Sea Ceptor missile defense system consisting of Common Anti-Air Modular Missiles (CAMM) to protect against airborne and sea surface targets, Mk-41 vertical launch tubes for other missile capabilities, a five-inch medium caliber gun, and an embarked helicopter.
The government noted the ships have a "flexible mission bay" that allows them to carry specific armed forces and equipment tailored for various operations
The British government underscored the contract will support 1,700 jobs over a decade in Govan and Scotstoun in Glasgow. Part of the contract includes BAE committing to invest $1.4 billion in the U.K. supply chain, which it expects will support 2,300 more jobs over 120 suppliers. This includes $294 million worth of work committed to Scotland, $19 million to Wales, and $889 million to England.
"We are investing in our fleet to ensure our Royal Navy maintains its world-leading capability to protect and defend our nation at sea. This design has already been successfully exported to Australia and Canada, it's already proved itself as a world-class maritime capability, securing thousands of UK jobs and strengthening alliances with our allies," U.K. Minister of Defense Ben Wallace said in a statement.
"Supporting thousands of high-skilled jobs in Scotland, and more across the wider UK supply chain, this contract will continue to boost our British shipbuilding industry, galvanising the very best of British engineering, manufacturing and design," he added.
The Ministry of Defense said BAE submitted a planning applications for a new 574 foot-long shipbuilding hall at Govan to allow two frigates to be built at once.
"This investment will be a major factor in the final five City-class ships costing less and being delivered faster than previous vessels," the ministry said in a statement.
"This contract secures a critical U.K. industry and allows us to build on our long history of shipbuilding on the Clyde as we continue to deliver cutting-edge equipment to the Royal Navy into the next decade. It underpins the ongoing investments we're making in the skills, infrastructure and technologies needed to stay at the forefront of the maritime sector and to support the U.K. Government's National Shipbuilding Strategy," Charles Woodburn, CEO of BAE Systems, added.
Australia and Canada have also chosen the Type 26 design for ships in their future naval forces. Combined with the eight-ship U.K. orders, this means BAE expects to build at least 32 of these frigates total.
In 2019, Canada chose Lockheed Martin's [LMT] team design to build 15 new Canadian Surface Combatant ships, based on the Type 26 Global Combat Ship design (Defense Daily, Feb. 8, 2019).
In 2018, Australia selected the Type 26 design for nine next-generation anti-submarine frigates for its Sea 5000 program (Defense Daily, June 29, 2018).