A bipartisan group of senators who are part of the Ukraine Caucus and on the Senate Foreign Relations Committee sent a letter Sept. 3 to White House officials, urging the release of authorized military security assistance to Ukraine.
The letter comes after media reports emerged last week that President Trump's administration is reviewing whether $250 million in congressionally approved funds should be sent to Kyiv to support its conflict against pro-Russian separatists. Members of the Ukraine Caucus including Sens. Dick Durbin (D-Ill.), Richard Blumenthal (D-Conn.), Rob Portman (R-Ohio) and Ron Johnson (R-Wis.) signed the letter, as did Senate Foreign Relations Committee and Senate Armed Services Committee Member Sen. Jeanne Shaheen (D-N.H.).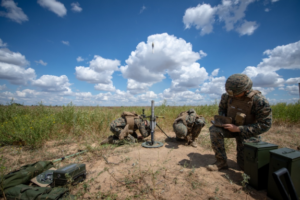 "We have worked hard in a bipartisan manner in the Senate to provide funding for a security assistance program for Ukraine that is effective, transparent and fiscally responsible," the senators wrote. "This funding is crucial to the long-term stability of Ukraine and has the continued backing and approval of the U.S. Congress which appropriated these funds. We strongly urge you to direct the Department of Defense to obligate these funds immediately."
The funds expire at the end of this fiscal year, on Sept. 30. Lawmakers created a mechanism, the Ukraine Security Assistance Initiative, in 2015 to support Ukraine's fight against pro-Russian forces since the Crimean region was annexed by Moscow in 2015. A bipartisan group of lawmakers, including SASC Chairman Jim Inhofe (R-Okla.), have often called for increasing military aid and support to Ukraine in statements and op-eds.
Trump has called for a review of all foreign aid before it is allocated, to ensure U.S. interests are being prioritized.
The senators noted in their letter to Office of Management and Budget Director Mick Mulvaney that the funds designated for the Ukraine Security Assistance Initiative have helped the country hone its own independent military capabilities and skills.
The U.S.-provided funds are necessary "to ensure the protection of the sovereign territory of this young country, going forward," they said. "This is not only critical from a security perspective, but it is the only way for Ukrainians to continue their progress toward reforming and defending their country's democratic institutions. In this way, we are helping Ukraine to one day become a net assistance provider, and not just a recipient."