The Senate on Friday voted 84 to 13 to pass the $741 billion fiscal year 2021 National Defense Authorization Act conference report, sending the bill to the president's desk amid his repeated threats to block the legislation.
The House and Senate have now both approved the bill with a veto-proof majority, receiving votes well above the two-thirds majority support that would be required to override a potential veto.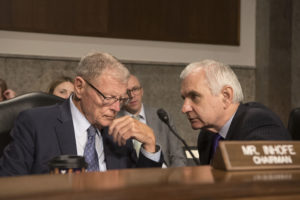 "We worked on this bill for months, and I'm pleased Congress passed it with a strong, veto-proof majority. Now it's up to President Trump to do the right thing and sign it into law. If he insists on trying to use our troops as pawns in his war on social media companies it could needlessly disrupt military programs and operations. President Trump should refrain from blocking a raise for our troops because he is unhappy with what is trending on Twitter," Sen. Jack Reed (D-R.I), the Senate Armed Services Committee ranking member, said in a statement.
The president has said previously he will veto the bill over its inclusion of a directive to rename bases named after Confederate leaders and for not including a provision for stripping a social media-related regulation.
The 13 'no' votes on Friday included several senators who voiced strong opposition to the base renaming provision, such as Sens. Tom Cotton (R-Ark.) and Josh Hawley (R-Mo.), as well as a progressive senators who have called for a reduction to the defense budget topline, such as Sens. Bernie Sanders (I-Vt.) and Elizabeth Warren (D-Mass.).
House Armed Services Committee leadership told reporters recently they are confident that both the House and Senate will retain the votes required to override the veto if the president follows through on his plan (Defense Daily, Dec. 7).
The House voted 355 to 78 to pass the bill on Wednesday (Defense Daily, Dec. 9).
The NDAA conference report includes authorizing $9.1 billion for 93 F-35 aircraft, 14 more than included in the president's budget request, funding the build of two Virginia-class submarines and supports $2.2 billion in funds to begin a new Pacific Deterrence Initiative (Defense Daily, Dec. 4).
The final base renaming provision in the bill, which has drawn bipartisan support from both chambers, reflects the Senate's original proposal and sets a three-year timeline for changing the names of installations.