Top Navy officials told the Senate Armed Services Committee today they expect the USS Gerald R. Ford (CVN-78) aircraft carrier to finally be ready by October and that incremental funding authority for amphibious ships could allow the Navy to reach 37 amphibious ships FY 2024.
Secretary of the Navy Richard Spencer confirmed the Ford is now expected to finish its post-shakedown availability (PSA) in October, reiterating what Navy acquisition chief James Geurts told the House Armed Services Seapower subcommittee last month. The PSA was originally scheduled to be finished by July (Defense Daily, March 27).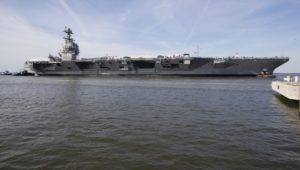 Spencer admitted beyond the ship having to verify new technologies like the Electromagnetic Aircraft launch System (EMALS), Advanced Arresting Gear (AAG) and Advanced Weapons Elevators (AWE), several systems have pushed the PSA from July.
There are other items pushing the availability out such as main thrust bearings, propulsion, and just the whole general PSA schedule."
Spencer said he was "fairly confident" the ship would be ready to leave port by October.
"This is new technologies, I don't want to use that as an excuse but I will tell you we are confident working with the contractor that this is the goal, that we will get the Ford out the door in October."
The Ford has been plagued with various delays, with this PSA delay largely driven by problems with the propulsion bearing system and the elevators. The carrier has four bearings that transfer thrust from its four propeller shafts and the issue caused the Navy to include repair costs in a reprogramming request last summer (Defense Daily, July 19, 2018).
The carrier also is designed to hold 11 AWEs, but the second elevator was only accepted in March (Defense Daily, March 6).
Earlier this year, Jennifer Boykin, president of shipbuilder Huntington Ingalls Industries' [HII] Newport News Shipbuilding said the company expects to turn over four upper stage elevators while another four to five lower stage elevators would be in the certification process by the time the Navy finishes the PSA and reaches its sail away date (Defense Daily, Feb. 1).
Notably, in January, Spencer said he promised President Donald the AWEs would be finished by the summer when the carrier completes its PSA and leaves port "or you can fire me" (Defense Daily, Jan. 8).
Separately, Chief of Naval Operations Adm. John Richardson told the committee that incremental funding authority Sen. Roger Wicker (R-Miss.) is pushing for could get the Navy to reach 37 amphibious ships by FY 2024.
The Navy's FY 2020 budget request delayed funding for the America-class amphibious assault ship LHA-9 and the second San Antonio-class Flight III Landing Platform Dock, LPD-31 to buy a third Virginia-class attack submarine (Defense Daily, March 14).
Last month, Wicker asked Navy officials during a Senate Armed Services Seapower subcommittee hearing if it would be helpful if Congress allowed incremental funding for the LPD and LHA, rather than merely let them be delayed as planned (Defense Daily, March 29).
Geurts agreed this would let the Navy accelerate how it spends the $350 million appropriated for the programs in FY '19.
On Tuesday, Wicker asked the question again and Spencer agreed it would be helpful.
Richardson also said there is still the enduring need to reach 38 amphibious vessels, the Navy's top line goal.
"Our current shipbuilding plan gets us to 36 by FY '24, five years. With this incremental funding authority that we've been discussing, we might be able to accelerate and get even closer to 37. And so we're paying a great deal of attention to meeting that requirement," the CNO said.
Last month, Geurts told reporters he is specifically hoping to pull LHA-9 up in the budget plans in FY '21. Without procuring LHA-9 faster, the shipbuilders would have a seven-year break in shipbuilding and Geurts said he was concerned with losing part of the LHA workforce.