A six-month continuing resolution would cause significant delays for the Army's plans to field the new Strategic Long Range Cannon, a lead program official told Defense Daily on Wednesday, and result in "irrecoverable time setbacks" due postponed demonstrations at test ranges.
Brig. Gen. John Rafferty, director of the Long-Range Precision Fires (LRPF) cross-functional team, said there has been no impact to his portfolio of weapons programs under the short-term CR, while noting that a stop-gap funding bill extending into 2020 would start to affect several program timelines.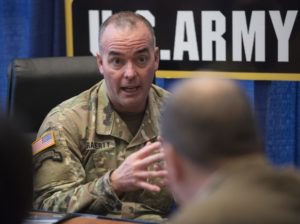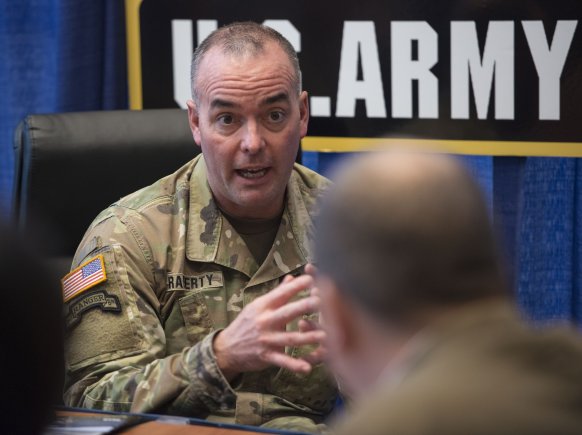 "For Strategic Long Range Cannon, we've said we can handle the short-term and not result in a slip in the schedule. But the longer it goes, it's harder to spend the money and it's harder to get the work done," Rafferty told Defense Daily during an Association of the United States Army event. "We would expect a significant delay in the strategic cannon if we don't receive the funding on time for that."
Strategic Long Range Cannon is the Army's program to field a new system capable of shooting projectiles at ranges of 1,000 nautical miles, with plans to field a technology demonstrator in 2023.
Rafferty attributed the potential delay to Strategic Long Range Cannon, and several other LRPF efforts, to missing out on key demonstrations at test ranges that will be indefinitely pushed back under a long-term CR.
"Those are hard things to reschedule. This is one thing I'm worrying about. There's not very many [test ranges], and there's required to do some of these long-range tests is a very complicated task. Once you get it locked in, it's hard to recover from a setback," Rafferty said.
A long-term CR would halt the LRPF team's momentum with industry across its portfolio of programs, according to Rafferty, as the Army looks to meet several milestones by FY '23.
Beyond the long-range cannon, Rafferty has previously said the Army will also look to deliver an initial capability for the future Precision Strike Missile and field the first battalion with the Extended Range Cannon Artillery in 2023 (Defense Daily, July 19).
"It affects, really, all of our programs in one way, shape or form, whether it affects the increments that we've already started on or the integration of technology into spirals down the road," Rafferty said. "It's bearable right now. I guess the good thing is that our community has become used to this sort of dance at the beginning of the fiscal year. And so we've obviously adjusted to that kind of environment. But there's only so much dancing that we can do. Eventually, the music stops."
The Army provided documents to reporters recently that documented a potential $8.8 billion impact if the service has to operate under a year-long CR (Defense Daily, Nov. 22).