The Navy plans to hold a virtual industry day on Feb. 23 as it seeks to use contractor owned, contractor operated (COCO) unmanned aircraft systems (UAS) for intelligence, surveillance and reconnaissance (ISR) purposes.
According to a notice published Jan. 23, Naval Air Systems Command intends to "broaden industry partnerships for current requirements and future capabilities," in support of domestic and international military coalition partners.
The industry day will occur under the auspices of the Navy and Marine Corps Small Tactical Unmanned Aircraft Systems (UAS) Program Office (PMA-263), under Program Executive Office, Unmanned Aviation and Strike Weapons, PEO(U&W).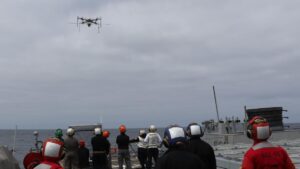 The service plans to release a Request For Information (RFI) "shortly after" the industry day to assess potential partners.
Specifically, the notice said PMA-263 intends to use the industry day "to present plans for current or future procurements to representatives from industry seeking to provide COCO ISR services in support of DoD, OGA, and combat and contingency operational requirements."
This covers support activities for land and ship-based operations "to provide reliable delivery of sensor data. Contractors would be responsible for providing all resources to produce sensor data including trained personnel, non-developmental UAS equipment, associated certifications, operation and maintenance, spares and product support."
The Navy said contractors interested in this work should be capable of providing ISR services at all times of every day, supporting "missions requiring around the clock imagery and other sensor capabilities."
Mandatory minimum requirements to provide UAS ISR services include Technology Readiness Level 8, operational range of up to 75 nautical miles with a single air vehicle, 10 hours time on station at maximum range, full motion video sensor and electronic warfare sensors, able to operate in adverse weather and austere conditions, runway independent, and operate in contested or degraded situations.
Responses are due by Feb. 19.