The top Navy officer on Monday argued against spending fleet dollars on extending the life of cruisers or focusing on existing missile cells over building new ships, but said he is open to the debate in Congress.
"There ought to be a robust, public debate on the composition of the future fleet. And we ought to talk about, as an example, does it make more sense to hang on with the cruisers that are well past their 30-year service life, continue to pour millions of dollars into upkeeping those vessels at the expense of and what the White House has directed that we divest of legacy and invest in new platforms," Chief of Naval Operations Adm. Mike Gilday said during a Defense Writers Group event on April 5.
Last month, Vice Chair of the House Armed Services Committee (HASC) Rep. Elaine Luria (D-Va.) said she felt the Navy's Battle Force 2045 plan did not adequately explain how it decided on the number of ships of each type in the future fleet plan and was
skeptical of attempts to retire some ships like Ticonderoga-class cruisers (Defense Daily, March 16).
"We also need to maintain the ships that we have and operate as efficiently as possible…and we need to quit getting rid of the ships we have that still have operational life left in them. [Battle Force 2045] aggressively decommissions the cruisers, some of which we've spent a lot of money upgrading in recent years and there's always a question of – well, it would just cost too much to upgrade them in a way that we could get 10 or 15 more years out of the ship," she said.
Gilday said the Navy's Distributed Maritime Operations concept is driving a more distributed fleet of more lethal but smaller vessels and the force should focus on building and maintaining the new ships.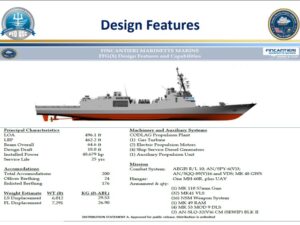 "That is frigates. So we should have that debate over whether we should put that next dollar into a 33- year old cruiser or whether we should invest in the Flight III DDGs that we're building down in Pascagoula, Miss.? We ought to have that debate."
Gilday was referring to the Navy's procurement last year of upwards of 10 Constellation-class (FFG-62) frigates from Fincantieri Marinette Marine in a contract worth up to $5.6 billion (Defense Daily, April 30). The Navy has said it plans to eventually procure at least 20 total frigates.
Luria said the Navy needs the capacity and capability of the Vertical Launch Systems (VLS) cells and systems on the cruisers now before new ships are in place.
"We need that capacity and capability of the air defense commander, the VLS cells and the presence…we just need to see on paper, is there life left in the cruiser and where would a smart investment be made?"
Luria also argued for a hull by hull analysis of issues with continuing the life of each cruiser because it will take time to bring online the full force of Arleigh Burke-class Flight III DDG-51 destroyers.
Gilday said what is driving the Navy's thinking is lethality, survivability, operational reach, total ownership cost, maintenance requirements, technical risk, and industrial capacity.
"We can't just be counting VLS tubes and satisfying ourselves that that's a sole metric we're going to look at."
However, Gilday maintained a conciliatory tone and emphasized he welcomes this debate.
"It's not that we all have to agree in the end, but I think that that kind of open debate, in the end, will likely lead us to a better solution."
Luria had said the Navy needs to decide if it needs a lot of ships right now, and "I don't see any other way that we can actually grow the fleet if we are not [maintaining current ships]. If we're decommissioning ships at a faster rate than we're building them, the fleet size is going to shrink, we're going to reduce our capacity and that is really the opposite of what we're trying to do."
Gilday maintained he is not critical of this kind of criticism from members of HASC because they are focusing on the same goals.
"I think at the end of the day, the question is are we all decided on the right end here? What's the end state that we're sighted on? I think we ought to agree on that, in terms of a bigger, better Navy."