NATIONAL HARBOR, Md. – The F-35's notoriously unwieldy Automated Logistics Information System (ALIS) is scheduled to move to the cloud by the end of the year, a move that is expected to significantly improve its usability and allow users to more rapidly adjust and develop applications, prime contractor Lockheed Martin [LMT] said Sept. 16.
The company plans to deliver an agnostic, cloud-based architecture for ALIS by 2020, using the rest of 2019 to shift its applications to the cloud before issuing the fully modernized version next year, said Michael Friedman, F-35 spokesman on the floor at the annual Air Force Association's Air, Space and Cyber Conference here on Sept. 16.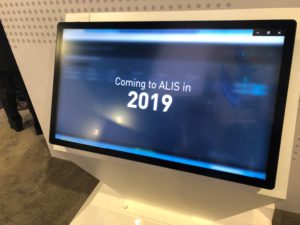 Since mid-2019, the company has partnered with other tech companies to improve the ALIS software infrastructure, support secure development operations and begin to transition to an "agnostic cloud-native environment," he said. That will allow Lockheed Martin and the program office to more rapidly develop and test upgrades without having to load the entire system each time, Friedman noted. It will also encourage developers to create, test and provide feedback for future fixes every few weeks, reducing development and fielding costs.
Friedman said a joint government and industry team tested an early version of the new framework earlier this year, and has reported success back to Lockheed Martin. The team plans to next perform tests in the operational environment to receive more user feedback.
The ALIS component of the F-35 program has gained the reputation of being cumbersome and ungainly, as it suffered from delayed updates and required workarounds that have frustrated users in the field. It is intended to streamline training, management and supply chain management functions and serve as the logistics "backbone" for the program.
"We began investing and conducting the modernization effort and industry partnerships in mid-2018 and are working on the modernization and re-architecture effort with the JPO [Joint Program Office] to ensure we have an end-to-end, fully integrated solution that improves ALIS for the entire enterprise and meets all requirements," Friedman said.
Lockheed Martin has continued to partner with the Air Force's Kessel Run software development office on incremental updates to ALIS-related applications. Former Air Force Secretary Heather Wilson announced in March that the Kessel Run office was working on a project called Mad Hatter, that would build apps meant to improve workflows and user experience for F-35 maintainers based at Nellis Air Force Base, Nevada (Defense Daily, March 8).
"While these applications do not yet fully integrate with ALIS or enterprise sustainment systems, we're working with Kessel Run to deliver positive impacts to the warfighters on the flight line today," Friedman said.
Improvements to the ALIS system have been a priority for Air Force Assistant Secretary for Acquisition, Training and Logistics Will Roper, who told reporters on Monday that he has offered for an Air Force agile software team to eventually take over ALIS. "That's such an important program for the future of the Air Force, given the number of F-35s we're going to buy, it's well worth the investment of that resource," he said in a media roundtable at the Air Force Association conference.
The Mad Hatter initiative has demonstrated that agile software development must be a priority for Air Force programs, he said, adding, "There's no choice in today's world."
He said he has been satisfied with the impact Mad Hatter has had on the ALIS program. "The team [from Kessel Run" is just a phenomenally talented technical team," he said. "The deployments that they have made out to Nellis – I have a group of staff sergeants and tech sergeants there that are on the maintenance squadron that email me back feedback. And it's just routinely, 'They're crushing it. They're killing it. … I can't believe we're getting things this fast.'"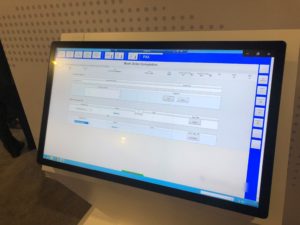 Over the next month to six weeks, the future of ALIS and Mad Hatter together may be further defined, he added. "Do they continue to be separate entities or do we transfer over the process we've demonstrated and try to go after ALIS as a whole? But those are premature because the JPO is still looking at not just ALIS, but all of their software needs."
Lockheed Martin has pledged to invest $180 million through 2021 to improve ALIS and its related data systems (Defense Daily, March 4). In 2018, the company invested $50 million in the system.
A portion of those funds went to the development of new screen interfaces meant to improve user experience.
The company partnered with the JPO and Silicon Valley-based tech company UEGroup to completely redesign the ALIS user interface, shifting from having eight screens that users had to toggle through to one sole screen, and 11 work orders to only one. Lockheed Martin displayed a demonstration of this new interface at their booth at the AFA conference.
Other related improvements are in the works as operational testing continues, and the redesigned interface is scheduled to be deployed in the next upgrade package, ALIS 3.5, scheduled to be complete by the end of 2019, Friedman said.
The industry team delivered ALIS version 3.1 in January 2018, and is in the process of completing fielding of version 3.1.1 – the current upgrade – across the fleet of 425 F-35s. Feedback from F-35 fleets who have received the newest upgrade has been largely positive, Friedman said, adding that in flight tests, users have saved about 40 minutes per day in maintenance report generation and a few hours per week in managing fleet directive reports.
The January update included new sovereign data management capabilities for international F-35 operators. Defense News reported in June that at least two international partners for the Joint Strike Fighter had at one point threatened to leave the program over concerns that the data moving through ALIS could be accessed by other international operators. The update "allows international operators to have more management and control of the information that gets sent back through ALIS," Friedman said, noting user feedback so far has been positive.
CORRECTION: This story has been updated to reflect the correct name of UEGroup.