Secretary of Defense Mark Esper has removed himself from his department's review of the potential $10 billion Joint Enterprise Defense Infrastructure competition due to his son's employment with one of the vendors originally interested in the program.
Esper has delegated further decision-making on JEDI to Deputy Defense Secretary David Norquist, according to top Pentagon spokesman Jonathan Hoffman.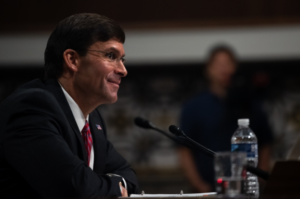 "Although not legally required to, he has removed himself from participating in any decision making following the information meetings, due to his adult son's employment with one of the original contract applicants," Hoffman said in a statement.
In early August, Esper said he would review the JEDI competition, which has faced allegations of conflict of interest with Amazon [AMZN] Web Services, pre-award protests and congressional and industry pushback over the Pentagon's decision to go with a single-award approach (Defense Daily, Aug. 1).
A contract award to either AWS or Microsoft [MSFT] , the two vendors to meet the program's threshold requirements, was originally slated for late August.
The Pentagon did not name the company in question, while a LinkedIn account for Luke Esper, the secretary's son, indicates that he has worked for IBM [IBM] since February as a "digital strategy consultant."
IBM submitted a bid for JEDI, but the proposal did not meet JEDI's gate criteria. The company has also previously challenged the program's stringent requirements and single-vendor approach to the cloud.
"The JEDI procurement will continue to move to selection through the normal acquisition process run by career acquisition professionals," Hoffman said.