President-elect Joe Biden on Wednesday named current National Security Agency cyber chief Anne Neuberger as his top official on the National Security Council (NSC) for cyber security and emerging technologies and also named Elizabeth Sherwood-Randall as his top homeland security adviser on the council.
The re-establishment of a top cyber security position at the NSC is in line with Biden's announcement in December that cyber security will be a top priority for his administration.
Neuberger is the director of the NSA's Cybersecurity Directorate, reporting to Army Gen. Paul Nakasone, who is the NSA director. The Cybersecurity Directorate achieved its initial operating capability in October 2019 and has been led by Neuberger the entire time.
Some of Neuberger's previous positions at the NSA include its first chief risk officer, deputy director of operations, and lead of the Russia Small Group, which was established to counter Russian cyber activity and influence, including interference with U.S. elections.
After Biden's announcement, the NSA's Central Security Service tweeted its congratulations to Neuberger, "whose selection to the National Security Council is a testament to the cybersecurity and technology expertise found in the halls of NSA. We look forward to working with her as she continues her government service."
The administrations of George W. Bush, Barack Obama included high-level homeland security advisers and cyber security coordinators as part of the NSC, and so did the Trump administration initially.
However, not long after John Bolton became President Trump's National Security Adviser in 2018, the NSC officials in charge of homeland security—Tom Bossert—and cyber security—Rob Joyce—resigned and the White House eliminated the cyber security coordinator position. Joyce was with the NSA before joining the White House and returned to the agency after stepping down from his coordinator role.
Since Bossert's departure, Trump's homeland security advisers have been less visible.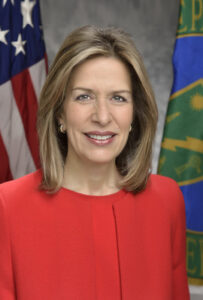 Sherwood-Randall is currently a distinguished professor at Georgia Institute of Technology and a senior fellow at Harvard University's Kennedy School's Belfer Center for Science and International Affairs. During the Obama administration, she served as deputy secretary at the Department of Energy from October 2014 to January 2017, and before that, served four years on the NSC, first as special assistant to the President and Senior Director for European Affairs, and then for a year as White House Coordinator for Defense Policy, Countering Weapons of Mass Destruction, and Arms Control.
During the Clinton administration, Sherwood-Randall served at Defense Department as deputy assistant secretary of Defense for Russia, Ukraine, and Eurasia from 1994 to 1996. When Biden was a U.S. senator, she served as his chief adviser on foreign and defense policy.
Both Neuberger and Sherwood-Randall have Deputy National Security Adviser in their NSC job titles.
Sherwood-Randall's deputy on the NSC will be Russ Travers, who Biden named as Deputy Homeland Security Adviser, a 42-year veteran of the intelligence community. Travers, whose most recent government services was as acting director and principal deputy director of the National Counterterrorism Center (NCTC), resigned last March under pressure by then-acting Director of National Intelligence Richard Grenell. The NCTC was established after the terrorist attacks of Sept. 11, 2001 to better tie together disparate bits of information across the intelligence community to help understand terrorist threats facing the U.S.
In July, Travers authored an opinion piece in the Washington Post highlighting his four decades of government service under four Republican and three Democratic presidents, saying "I never saw anyone, at any level, attempt to undermine any president." His commentary served as a counter to Trump's allegations that his administration was being undermined by a deep-state within the government.
Some of Travers' previous assignment include serving on the NSC as a special assistant to the President for Transnational Threat Integration, the National Intelligence Council, and on the NSC under Obama as lead of an interagency task force responding to the Wikileaks disclosures by then Army Pvt. Bradley Manning.