The Army's review of its $16 billion ammunition production modernization plan will include overhauling the effort to focus on transforming facilities around open architecture designs to allow for more modular manufacturing practices and pathways to reduce reliance on foreign suppliers for critical materials, officials said Tuesday.
The service's ammo production path forward will include a short-term plan that aims to make facilities safer over the next five years and before releasing a new longer-term, 15-year plan that will require the support of senior Pentagon leadership and Congress.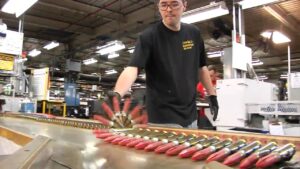 "We've kind of come to the end of the rope with respect to modernization for those facilities. I [have named the] people who were killed at those facilities doing exactly what they were supposed to do by the procedures that had been modernized, but we still had catastrophic events. And to not learn from those events and take action from them would be untenable," Bruce Jette, the Army's top acquisition official, told reporters. 
Jette told lawmakers in September the Army is reviewing its current modernization plan, originally released in 2016,  to address single points of failure and supply chain dependency in its ammo production, as well as concerns over the injuries and several deaths that have occurred at plants in recent years (Defense Daily, September 23). 
"We are going to be drafting a revised modernization plan that will run out 15 years and needs to be reviewed every few years to keep it current," Jette said.
The new plan will focus on transforming facilities rather than modernizing current production lines, some of which have been in operation since the 1940s, with an emphasis on new digital architectures that move more production line workers out of harm's way. 
"That's transformational. You can't do that with the current designs of these facilities," Jette said. "Some of these buildings that we have at some of these facilities definitely need to be replaced. For some of these building that we have at these facilities, the bones of building are still good and it's just a question of if it's more economical to tear down and rebuild or to go ahead and renovate."
Brig. Gen. Vincent Malone, Joint Program Executive Officer for Armaments & Ammunition, told reporters the goal is design for "flexible execution" and move away from single-purpose manufacturing processes. 
"We're going to drive toward the end state of transformational change across the [Government-Owned, Contractor-Operated facilities]. It's going to take new processes and new procedures, new sources of material, so we can bring more of our manufacturing domestically and more with key strategic partners," Malone said. "I feel very confident about the path we're on. It's going to be a long journey, but we're going to get there."
Malone noted, in the meantime, the Army will look to release a short-term plan that addresses ammo production modernization updates within the current POM five-year budget cycle. 
"Will it be all inclusive? No, but it will set the foundation for where we're going for that long-range, 15-year strategy," Malone said.