The Army has selected Kongsberg to provide the wireless fire control capability for the medium caliber weapon system on its future Light and Medium Robotic Combat Vehicles, the company said Wednesday.
Kongsberg has also been tapped to provide its Common Remote Weapon Station-Javelin (CROWS-J) and its Medium Caliber Turret-30mm (MCT-30) for the Army's Phase 2 RCV experiment in FY '22.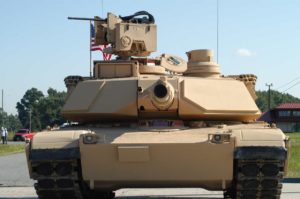 "Beyond lethality and scalability, in conjunction with other Kongsberg medium caliber systems and medium weight systems being delivered, soldiers have the advantage of service-wide commonality. This will have tremendous positive impacts on training, provisioning and sustaining all U.S. Army weapon stations," Scott Burk, Kongsberg Defense's vice president for land systems, said in a statement.
Kongsberg said it previously demonstrated its wireless fire control capability for the RCV-Light architecture during a June 2019 live-fire test, which included firing a Javelin anti-tank guided missile as well as a 12.7mm machine gun from a CROWS M153 remote weapon station mounted on an unmanned ground vehicle. 
The demo also showcased the ability to deliver secure video and fire-control data transmission over radio from the weapon station and the missile, with a similar test planned for later this year.
In May, Kongsberg said BAE Systems had selected its MCT-30 weapon for the turreted variant of the Marine Corps' Amphibious Combat Vehicle (ACV), with an initial deal in place covering delivery of 150 turrets (Defense Daily, May 13). 
The Army's Phase 2 RCV experiment, set to take place in FY '22, will be the first demonstration with QinetiQ North America's light variant and a Textron [TXT] team's medium variant prototypes (Defense Daily, May 20).