Initial equipment orders for the Army's first tactical network modernization capability drop (CAPSET 21) and prototype deals for the second capability set (CAPSET 23) will both likely be placed before the end of this fiscal year, officials leading the effort told Defense Daily on Tuesday.
The Army is currently focused on gathering final data to inform a critical design review for CAPSET 21 and soliciting industry pitches for CAPSET23 capabilities that will allow the service to think "dramatically different about the network than we do today," the officials said.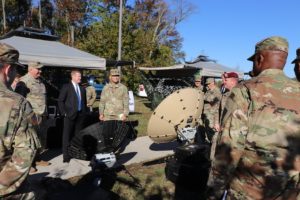 "In terms of the network design and the goals for CAPSET 23, those are being worked right now. We've got a team at Aberdeen [Proving Ground in Maryland] this week looking at our network design goals," Maj. Gen. Peter Gallagher, director of the Network Cross-Functional Team, told Defense Daily. "We've got some work to do. We're going to see what's in the art of the possible, what new technologies are actually going to make a difference above and beyond what we're already fielding with CAPSET 21."
Maj. Gen. David Bassett, program executive officer for Command, Control and Communications-Tactical, said the Army is set to complete the critical design review for CAPSET 21 by mid-April, before putting in the first equipment orders in late FY ' 20 and the beginning of FY '21.
Gallagher and Bassett have previously detailed the Army's plan to overhaul the tactical network with capability drops every two years, to include network transport capabilities, mission command applications and command post computing environments, in an effort to keep better pace with industry.
"Fiscal year 2020 was the first opportunity we had the ability to influence the budget and actually get the prototyping dollars where we needed them, to be able to leverage industry's solutions and get them on contract," Gallagher said.
For CAPSET 23, the Army held an industry event in Austin, Texas, this past fall to inform requirements before releasing a call for white papers earlier this month (Defense Daily, Jan. 9).
Gallagher noted the white papers were due by Tuesday, with plans to review proposals before mid-February and then host a "Shark Tank"-like pitch event at Aberdeen on March 1.
"There is a lot of excitement in industry right now about the outputs of this Shark Tank [event]. But we're not going to be able to prototype everything, so we want to use every dollar wisely and actually make sure that what we do put in the hands of soldiers is meeting an operational need that is not being met otherwise," Gallagher said. "Where we're going with CAPSET 23 is that we're eyes wide open right now. We're looking at what's out there that we haven't thought of yet. The session we did in Austin, I thought, was very successful."
Bassett added that the Army is specifically looking for tools with CAPSET 23 to include new waveforms that offer resiliency in an electronic warfare environment and "software that can implement a meaningful data fabric for tactical edge computing."
"What we don't want is a relook at out old technologies, and trying to figure out where it fits. We're looking for new capabilities that are going to give us a warfighting advantage," Gallagher told Defense Daily.