The Army on Wednesday detailed prototype plans for the live training component of its future networked training capability, which will begin with technology development contracts this fall.
The Live Training Environment (LTE) prototyping effort will look to provide "realistic Force-on-Force (FoF) training" capabilities within the eventual virtualized Synthetic Training Environment (STE) that the Army is working to deliver by fiscal year 2021.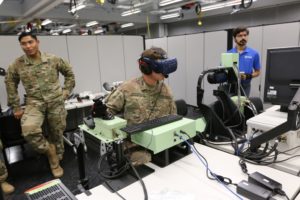 "The future live training environment will provide the Army with a high-fidelity replication/representation of real combat to include direct and indirect fire weapons, and non-lethal fires," officials wrote. "The ability to conduct live training in conjunction with constructive and virtual training enables units all over the world to train together improving multi-echelon training exercises."
A draft Request for Solutions included plans to award a series of Other Transaction Authority agreements in early FY '20 for STE-LTE prototype development, which will culminate in a final prototype assessment by October 2020.
The prototype OTA's will look to develop tools for STE-LTE "capable of initially providing Platoon-level live FoF training simulation capabilities," with the program set to inform final requirements and provide insight on industry's technology readiness levels.
STE-LTE is set to include instrumentation systems, engagement simulation capabilities and range systems located at home stations, maneuver Combat Training Centers and deployed training sites.
"This future system will interface with the STE architecture, providing seamless exchange of content between live and simulated virtual and constructive environment," officials wrote.
Subsequent prototyping opportunities will cover areas such as Force on Target training, with the overall STE-LTE effort focused on simulation of direct and indirect fire weapons as well as operational training environment realism.
Maj. Gen. Maria Gervais, director of the program, told reporters last month the Army is readying to award the first development contracts for the overall STE project in June, with a goal of delivering an initial system in FY '21 and fielding a final capability in FY '23 (Defense Daily, May 15).
STE will begin with capabilities at up to five installations, and then expand over the next two years to reach Full Operational Capability at all locations where the system is required, Gervais said at the time.
The Army recently completed user assessments with potential air and ground simulators and an event to gather soldier feedback on the system's software, One World Terrain.