The Air Force has awarded Boeing [BA] a contract modification worth over $2.6 billion for Lot 5 production of the KC-46A Pegasus aerial refueler.
The contract, which was announced Sept. 27, includes 15 additional aircraft, data, two spare engines, five wing refueling pod kits and associated spares and support equipment. Work will be performed in Seattle and is expected to be completed by March 2023.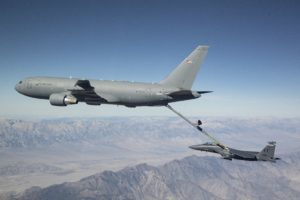 Fiscal year 2017 funds totaling nearly $113 million; FY '18 funds totaling over $363 million; and FY '19 funds of over $2.1 billion were obligated at the time of award.
The program has had its share of schedule delays and overruns, and continues to draw criticism even as the Air Force has accepted 19 aircraft for delivery as of Sept. 18. It began taking aircraft in January.
Air Mobility Command Commander Gen. Maryanne Miller told reporters last week that more progress was needed on the KC-46 program (Defense Daily, Sept. 18).