Lawmakers have reached a deal on a $2.3 trillion spending package that includes a pandemic relief stimulus bill and $696 billion for fiscal year 2021 defense appropriations, covering funds for 96 F-35s and an additional Virginia-class submarine.
The $900 billion emergency relief package in the bill includes a provision extending the deadline for defense contractors to submit pandemic-related claims for reimbursement through the end of March 2021.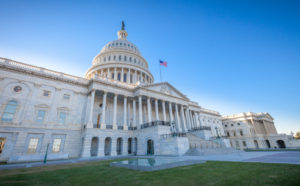 Defense industry CEOs and industry associations had urged lawmakers to push back the period to submit claims under Section 3610 authority from the CARES Act, which provides assistance for the defense industrial base's efforts to keep workers employed during the pandemic, as it was currently set to expire.
The $696 billion for defense in the $1.4 trillion omnibus spending package, released on Monday, represents $2.6 billion more than FY '20 spending levels but $2.1 billion less than the president's budget request.
The bill is expected to receive bipartisan approval in both chambers as lawmakers are facing a government shutdown with funding set to expire at midnight on Dec. 21.
The $142.9 billion for defense procurement includes $2.3 billion for the second Virginia-class submarine, part of a $23.3 billion appropriation for building 10 ships, and $9.6 for 96 F-53s, 17 more than the budget request.
The F-35 funds includes covering 60 F-35As, 10 F-35Bs and 26 F-35Cs.
Additionally, lawmakers call for $189 million more than the budget request to fund the Army's first five CH-47F Chinook Block II heavy-lift aircraft and long-lead funding for a second group of five CH-47F Block IIs "to ensure that the Army stays on schedule with the program of record."
Full funding is appropriated for 24 F/A-18E/F Super Hornet aircraft at $1.7 billion, 12 F-15EX aircraft at $1.2 billion and 15 KC-46 tankers at $2.7 billion.
Lawmakers increased funds for a range of other aircraft program to include $141 million more for UH/HH-60M Blackhawk helicopters, an additional $110 million for 12 MQ-1 Gray Eagle drones and a total of $1.5 billion to cover C/MC/KC-130J aircraft, eight more than were in the president's budget request.
The bill also includes $90.5 million above the budget request for the Army's continued development of the Future Long Range Assault Aircraft program to replace its Black Hawks.
The House and Senate have also both passed the final $741 billion fiscal year 2021 National Defense Authorization Act conference report with veto-proof majorities, while the bill is sitting on the president's desk amid his repeated threats to block the legislation (Defense Daily, Dec. 11).