Senate Democrats have nominated Sens. Mark Kelly (D-Ariz.) and Jacky Rosen (D-Nev.) to serve on the Senate Armed Services Committee in the new Congress, while the House Armed Services Committee officially welcomed 16 new members and announced two new subcommittees on Wednesday.
Kelly and Rosen replace Doug Jones, who lost his Alabama seat, and Sen. Martin Heinrich (D-N.M.), who is now set to serve on the Senate Appropriations Committee. The full Senate must still ratify both nominations.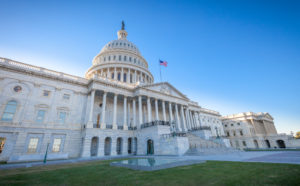 Senate Republicans have not yet nominated their new members for the Armed Services panel.
"Arizona trains some of the best pilots and intelligence officers in the world, it develops and tests many of the advanced weapons systems needed to outpace China and Russia, and it is home to a community committed to our national security and to supporting service members and military families. It's an honor to join the long legacy of Arizona Senators serving on the Armed Services Committee, and I look forward to working with Republicans and Democrats, and Arizona defense leaders, to protect and expand Arizona's role in our national defense and meet the threats we face around the world," Kelly wrote in a statement.
Kelly, a former NASA astronaut, defeated former SASC member Republican Martha McSally for the Arizona seat, and received over $100,000 from Raytheon [RTN] toward his campaign, according to the Center for Responsive Politics.
In December, Kelly and his counterpart Sen. Kyrsten Sinema (D-Ariz.) were the only two Senate Democrats to vote against a measure that aimed to block the sale of Reaper drones and munitions to the United Arab Emirates. Raytheon Missiles & Defense [RTN], which would supply several of the munitions included in the deal, is headquartered in Kelly and Sinema's state of Arizona (Defense Daily, Dec. 10).
"In the coming months, Kelly will continue visiting Arizona's military installations and meeting with Arizona's defense community on priorities including protecting the A-10 mission at Davis-Monthan, supporting the F-35 programs at MCAS Yuma and Luke AFB, maintaining the Barry Goldwater Range as a critical location for training, continuing the intelligence missions at Fort Huachuca, and increasing the capability of Yuma Proving Ground for the Army and private sector partners in Arizona," Kelly's office wrote in a statement.
Rosen noted she will be the first Nevada Senator to serve on SASC in nearly 15 years.
"In an era of increased threats to our nation and global instability, we must maintain a military force that is properly equipped, trained, and ready to overcome any challenge that the United States may face," Rosen said in a statement. "Nevada is the proud home to multiple military bases and installations, and to brave men and women who make up our armed forces. I admire and deeply respect the men and women who serve our nation, and I am honored to join the Senate Armed Services Committee. As a committee member, I will advocate for our troops, our national defense, and for Nevada's many military facilities and projects."
During an official organizational meeting on Wednesday, seven new Democrats and nine new Republicans were welcomed onto HASC for the new Congress.
Rep. Adam Smith (D-Wash.), the HASC chair, introduced the Democratic members, which includes freshman members Rep. Sara Jacobs (D-Calif.) whose district covers Naval Base San Diego, Rep. Kai Kahele (D-Hawaii) who took over Tulsi Gabbard's seat and Rep. Marilyn Strickland (D-Wash.) whose district represents Joint Base Lewis-McChord.
Rep. Marc Veasey (D-Texas), Rep. Jimmy Panetta (D-Calif.) and Rep. Stephanie (D-Fla.) are returning to HASC after serving on other committees.
The nine new GOP members on the panel include former White House physician Rep. Ronny Jackson (Texas) who took over former ranking member Mac Thornberry's seat, as well as Reps. Mark Green (Tenn.), Mike Johnson (La.), Pat Fallon (Texas), Stephanie Bice (Okla.), Blake Moore (Utah), Lisa McClain (Mich.), Jerry Carl (Ala.) and Scott Franklin (Fla.) (Defense Daily, Jan. 26).
Smith and Rep. Jim Langevin (D-R.I.) also announced Wednesday the formation of the new HASC Subcommittee on Cyber, Innovative Technologies, and Information Systems (CITI).
"As technology continues to advance at an incredibly rapid rate – from artificial intelligence to biotechnology and everything in between – it is critical that the Armed Services Committee redoubles our efforts to bridge the gap between current capabilities and future requirements," Langevin, who will chair the panel, and Smith wrote in a joint statement.
Rep. Ruben Gallego (D-Ariz.) announced that he will also chair the new Subcommittee on Intelligence and Special Operations (ISO).
"This new subcommittee structure will allow for an even greater focus on military intelligence; national intelligence; countering chemical, biological, and radiological weapons of mass destruction; counterterrorism; other sensitive military operations; and special operations forces," Gallego and Smith wrote in a joint statement.