The Secretary of the Navy confirmed the department will seek another multi-year procurement contract for Arleigh Burke-class (DDG-51) destroyers and backs previous service plans to end new purchases of the F/A-18E/F Super Hornet aircraft.
When speaking at the Aspen Security Forum on Thursday, Carlos Del Toro was asked how he responds to and if he accepts as fact General Dynamics Bath Iron Works [GD] warning it would have to cut 2,400 shipbuilding jobs by 2024 if the Navy does not place another long-term order for destroyers. GD and Huntington Ingalls Industries [HII] both build the destroyers for the Navy, with the latter at its shipyard in Pascagoula, Miss.
"I served in the private sector for 17 years and so it's important for companies to clearly understand what the demand signal is moving forward," Del Toro said.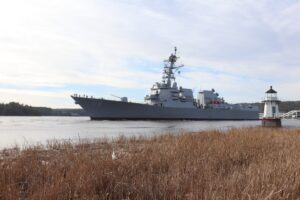 "But in the case of Bath, Maine I'm quite confident that we'll be seeing multi-year procurements in the future in support of building our DDG class of destroyers that will support a continued stable workforce at Bath and also at Pascagoula."
In June, then-Acting Secretary of the Navy Thomas Harker told the Senate Appropriations Defense subcommittee the Navy plans to sign another DDG-51 Flight III multi-year procurement contract lasting from fiscal year 2023 to 2027 (Defense Daily, June 25).
The Senate Appropriations Committee's draft FY '22 defense spending bill report encouraged the Navy to follow through and finalize a follow-on contract for the next DDG-51 multi-year procurement starting in FY '23 (Defense Daily, Oct. 21).
Del Toro said he also agrees with the Navy's request to end production of new Super Hornet aircraft in 2024, despite some congressional action in the FY '21 budget cycle to add more. He couched it as necessary to counter growing Chinese military advancements.
He said that shutting down the new aircraft line "is a decision made in order to be able to support the future purchases of the F-35C, which is a far more significantly capable aircraft that we're looking at for operational use in the Indo-Pacific and elsewhere to be able to meet the significantly increasing capabilities of the Chinese."
The Secretary added Congress forcing the Pentagon to keep buying Super Hornets "does have a negative impact in a world where often budgets don't grow at a pace that you'd want them to grow. So it's a tradeoff basically and a balance that you have to make between those two, which is why the Navy has been pushing so hard for more purchases of the F35-B and C."
This is in line with what Chief of Naval Operations Adm. Mike Gilday said during the Navy League's Sea Air Space expo in August about industry lobbying Congress for things the Pentagon does not want (Defense Daily, Aug. 4).
"Although it's in industry's best interest – and I just saw your second quarter reports and I know it's a happy audience out there for the most part, building the ships that you want to build, lagging on repairs to ships and to submarines – lobbying Congress to buy aircraft that we don't need that are excess to need – it's not helpful. It really isn't in a budget-constrained environment," Gilday said.
At the time, Rear Adm. Andrew Loiselle, Director of Air Warfare Division (N98), clarified Gilday was talking about new F/A-18E/Fs, which would take funding away from money Loiselle could otherwise direct to more Service Life Modernization updates to existing Super Hornets.