Israel's Rafael held a live-fire demonstration of the lightweight version of its Spike anti-tank guided missile for the Army this month, the company said Thursday.
Rafael said it received "positive feedback on the system's light weight, lethality and ease of use" from soldiers who assessed the Spike Short Range (SR) missile as part of January's Army Expeditionary Warrior Experiment (AEWE).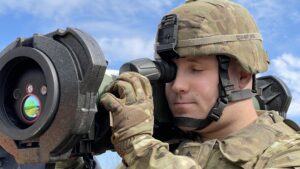 "This light-weight system can greatly enhance squad-level soldier lethality, a core capability of the Army," Joe Anderson, CEO of Rafael Systems Global Sustainment, said in a statement.
The assessment was the first demonstration in the U.S. of the Spike SR, which the company said is a 10-kilogram, shoulder-fired version of its standard Spike missile capable of ranges out to 2000 meters.
Attendees at the demonstration include U.S. Army officials from Futures Command, the Maneuver Center of Excellence and the service's acquisition community, according to Rafael.
"AEWE assessed SPIKE SR as a precision munition system for infantry squads, for which portability and simplicity of operation is essential," the company wrote in a statement. "AEWE also assessed the system for its ability to allow close-combat formations to dominate the operational environment and handle new threats in a near-peer conflict."
The Army said last January it has approved the use of the Spike Non-Line-of-Sight (NLOS) missiles on its Apache as an interim solution while it looks to develop an enduring long-range missile for its helicopter fleet.
Anderson noted the AEWE demonstration also included Rafael's Fire Weaver sensor-to-shooter system and its BNET software-defined radios.
"These systems, combined with SPIKE SR, can provide tactical overmatch by enabling high maneuverability and lethality. The live fire further demonstrated the effectiveness of SPIKE and provided a good opportunity for first-hand soldier feedback," Anderson said.