Polaris [PII] on Tuesday disclosed new details of the MRZR Alpha ultralight tactical vehicle it's delivering to U.S. Special Operations Command, including an expanded payload capacity, improved chassis and an 8-speed automotive transmission.
"The MRZR Alpha is powerful and flexible enough for expanded missions, provides more durability to meet an extended life-cycle and is agile in off-road environments to best support operators, yet compact and lightweight for tactical air transport," Nick Francis, director of Polaris Defense, said in a statement.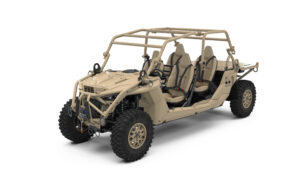 In May, Polaris received a seven-year, $109 million deal to deliver the MRZR Alpha as the latest version of SOCOM's Light All-Terrain Tactical Vehicles (LTATV) (Defense Daily, June 5). 
"By following the demanding requirements and feedback from U.S. Special Operations Forces, we've created the highest performing MRZR yet – and in the process, established an all-new breed of vehicle that is still internally transportable via V-22 in a more capable package to ensure mission success," Francis said.
MRZR Alpha will include an expanded payload capacity to cover potential mission roles for indirect fire weapons, explosive ordnance disposal systems, mobile network capabilities, missile launch and logistics, according to the company.
The latest version of LTATV vehicle's chassis is "larger and more durable" and includes a "high-performance 8-speed automotive transmission and a powerful, yet quiet, 4-stroke, 118 hp turbo-diesel engine."
"This provides 200 ft-lbs of efficient torque that, when combined with a selectable locker for the 2WD/4WD drive system, delivers superior off-road maneuverability and handling in the most demanding environments, including deep sand," the company wrote of the vehicle's specifications. "In the cab, there is increased exportable power, more cab space and a greater configurability."
Polaris said the MRZR Alpha's four-seat variant can handle payloads up to 2,000 pounds, and is heavy-fuel compatible. 
"The MRZR Alpha can be internally transported by V-22, H-47 and larger aircraft by leveraging toolless [Rollover Protection Systems] and spare tire stowage," the company wrote. "External transportation includes H-60 and larger rotary wing lift assets."