Northrop Grumman [NOC] recently completed a three-week, nearly 9,000-mile roadshow of its Firebird optionally-manned autonomous long-endurance aircraft across the U.S. that wrapped up with a maritime domain awareness demonstration of the system and a sensor package for littoral operations in South Florida, the company said this week.
The demonstrations in Key West, Fla. for U.S. Southern Command (USSOUTHCOM) followed discussions with customers and potential customers about "the growing need for littoral maritime ISR capability," specifically for detect and monitoring operations, John Haun, chief strategist for Autonomous Systems at Northrop Grumman's Aeronautics sector, told Defense Daily
during a virtual interview on Thursday.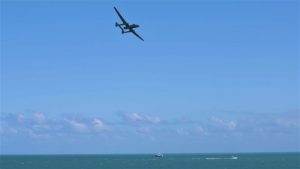 Firebird can be operated in manned and unmanned configurations relatively inexpensively for a wide-range of missions such as search and rescue, firefighting, intelligence, surveillance, and reconnaissance, agricultural applications, maritime monitoring and more.
For the USSOUTHCOM demonstration, which was geared for the Joint Interagency Task Force-South that is focused on detecting and monitoring illicit trafficking in the air and maritime domains, Firebird was flown in a manned configuration equipped with a four-sensor package consisting of two high-definition electro-optic/infrared cameras, an Overwatch Imaging TK-9 multispectral sensor for small target detection, and an automatic identification system receiver.
Haun said that prior to the six-stop roadshow, his team did some artificial intelligence-based anomaly detection testing of the TK-9 sensor off the California coast and it queued the operators to a specific location in the water and they took a closer look with a sensor and saw it was a sun fish about two-feet below the water surface. He said the fish was about three-feet wide, "and it kind of showed us that there are applications for semi-submersible detection and other things like that that would be mission relevant in the maritime environment. And then we were also detecting everything like surfers and boats."
Firebird can be converted from a manned to unmanned configuration with two people in four hours. It can be flown in all weather, day and night, and has a 25,000-foot flight ceiling, 7,500-pound gross take-off weight, 32-cubic foot payload bay, and a 700-pound internal payload capacity and 1,700-pound total payload capacity. It takes a day to integrate a new sensor on the aircraft and just 30 minutes to swap out sensors that have previously be used on Firebird.
In the manned configuration the aircraft can fly up to 3,100 nautical miles and then quickly be reconfigured for unmanned flight, Haun said. The system is designed to be operated with a small ground crew and features a lot of commercial subcomponents that help drive total ownership costs to about half the price of other manned and unmanned aircraft in the light ISR space, he said.
During the recent roadshow, Firebird was only flown in manned flights and followed instrumented flight rules, showcasing its easy integration into the national airspace and rapid deployment to areas of need.
Haun said that Firebird made stops at Wright Patterson AFB in Dayton, Ohio, where the team met with acquisition officials from the Air Force that do traditional and rapid procurements; Washington, D.C. for meetings with international government representatives that included India and Japan, and U.S. government officials; Patuxent River Naval Air Station, Md., for meetings with senior Navy leadership from the Naval Air Systems Command; Tampa, Fla., for meetings with U.S. Special Operations Command and international special forces that included the Netherlands, Germany, Japan, Spain and Chile; Miami to meet with USSOUTHCOM; and finally Key West for the demonstrations with USSOUTHCOM and representatives from some Caribbean nations, including Jamaica.
Overall, about 170 people came out at the various stops to see Firebird, Haun said.
The visits generated a lot of international interest in Firebird and Haun said the company this year will continue to press ahead on the international pursuits.
Northrop Grumman this year also plans to do more work expanding the maritime capabilities of Firebird and is considering two maritime radars for wide area search applications, Haun said. One radar will be selected, he said.
Among the countries boosting demand for maritime ISR in the littoral environment, Haun mentioned Australia, Canada, Denmark, India, and the Netherlands for a variety of missions including support of NATO, smuggling interdiction, special operations, and operations near the Arctic circle.