The director of the Missile Defense Agency (MDA) recently said in 2024 the Defense Department will decide exactly how many new Next Generation Interceptor (NMI) U.S.-based missile defense interceptors it will buy, potentially going past a planned 20 to also replace older current interceptor missiles.
"Our plan is to reach a decision in production around the [2024]. When you get to the preliminary design review and start thinking about production, there are options there because we do have the missile field that's ready to take those first 20," Vice Adm. Jon Hill, director of MDA, said during a May 18 hearing at the Senate Armed Services subcommittee on strategic forces.
In 2021, MDA chose two teams led by
Northrop Grumman [NOC] and Lockheed Martin [LMT] to conduct initial technology development and risk reduction work for the NGI. The agency is planning to keep overall NGI competition operating at least through the critical design review (CDR) phase. (Defense Daily, March 23).
MDA is developing the NGIs to improve and ultimately replace the GBIs. NGI replaces the canceled Redesigned Kill Vehicle, which was previously planned to start production with 20 new interceptors to be put into silos. The silos are already built and ready to house NGIs. Currently, MDA is using the new silos for the Service Life Extension Program (SLEP) to upgrade parts of current GBIs.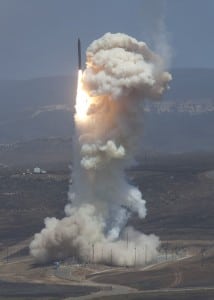 GMD currently includes 44 interceptors aimed at a small number of intercontinental ballistic missile (ICBM) threats from a target like North Korea.
Hill said part of the policy decision on how many NGIs to ultimately build will be based on whether to fill all the missile fields, meaning adding just 20 NGIs or also replacing the current GBI inventory.
"Those are decisions that we have to make within the department."
When asked by Sen. Deb Fischer (R-Neb.) if he is comfortable with that process and options, Hill said he is "comfortable that we have two contractors in play and that those options will be there to build out, fill that missile field and then replace, if we make the decision to do so."
Hill confirmed those options are part of discussions with the NGI teams and noted this is a "fly before you buy program," with an intercept and salvo test of both competitors before moving to full production.
At the hearing, Gen. Glen VanHerck, commander of U.S. Northern Command and NORAD, agreed the number of NGIs is a policy question above them but said his assessment is "when you factor in service life extension, which will give us significant reliability and data and information that will help me with my shot doctrine, give me additional capacity. When you factor in the Next Generation Interceptor and its capabilities, along with Long Range Discriminating Radar, all of that – I will be comfortable when it's delivered in the '27 to '28 timeframe."
However, he added he is concerned about his ability to stay up to date with the capability and especially capacity of enemy missiles, implying North Korean missile numbers.
Hill divided the current set of Ground Based Interceptors (GBI) for the Ground-based Midcourse Defense (GMS) system into three classes: oldest, mid-grade, and newest interceptors. The official terms are Block 1s with CE-1 kill vehicles and C1 boosters, Block 2As with CE-II kill vehicles and C1 boosters, and Block 2Bs with CE-II Block 1 kill vehicles and C2 boosters.
He said VanHerck takes that into account as part of his shot doctrine and also underscored the newest GBIs should last over a decade longer.
"So we're not really concerned about the new ones, they have a long life and their reliability will carry them into the 2030s," Hill said.
Hill said DoD has the option to start replacing some of the older GBIs.
"And that's why I think it's very important to have the two contractors in play. That's the other option we have here – you can keep them beyond the CDR and you could have a double production house, depending on where the threat goes. And if you need numbers, we can build the numbers by having two contractors carried through critical design review."
During the hearing Hill also said MDA is "ahead of schedule" on GBI SLEP work.
"We are making great progress. We are on track, ahead of schedule. We've got the first round that we refurbished back in the hole now. Number two's inbound and rounds three, four and five are being processed now. That is going to extend the reliability of our in-service fleet."
Hill argued while the SLEP work can continue for a long time NGIs will ultimately be a needed upgrade because they will have multiple kill vehicles per interceptor over the current GBIs with single kill vehicles each.
"That's a huge lift in terms of how we take on the threat because the threat will continue to evolve to have maneuvering warheads and multiple maneuvering warheads. So we need the Next Generation Interceptor."
"We can SLEP all day long those unitary missiles, and we can drive their lifetime to the right pretty far – but at the end of the day, you really need the upgrade that Next Generation Interceptor brings because it's going to operate in a really tough space, but it does have multiple kill vehicles, which gives us a lot more flexibility," he continued.
During a Center for Strategic and International Studies event on May 23, Hill added while MDA could continue SLEP work for longer, with one kill vehicle per interceptor missile, "you'll use up your rounds pretty quickly if you're not careful" because the ICBMs can increase targets with countermeasures and decoys.