The Navy awarded Lockheed Martin [LMT] a contract worth up to $2.338 billion on Jan. 31 to repair, upgrade or replace weapon replaceable and shop replaceable assemblies for the service's MH-60R and MH-60S helicopters.
This award is a performance-based logistics requirement that covers required availability, configuration management and inventory management for about 1,049 of the replaceable assemblies.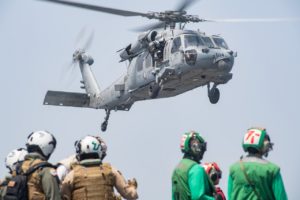 Work will be spaced out in various U.S. locations (48 percent) with one percent of supplier work performed by five organic depots via commercial service agreements. Another 38 percent of the work will occur in Stratford, Conn., and 14 percent in Owego, N.Y.
The contract covers a five-year base period and is expected to be finished by January 2025. The award has a single two-year option period that, if exercised, will extend the work through January 2027.
Annual Navy working capital funds of $182 million will be issued for a delivery order that is set to be awarded concurrently with this contract and initially obligated as an undefinitized contract action. That order also has a commitment for another $61 million for period of performance through September 2020. Funds will not expire at the end of this fiscal year.
Only one company was solicited for this sole-source requirement.
Separately, Lockheed Martin also won a $186 million contract for program management, various levels of maintenance, training and logistics support to sustain the operational capability of 24 Royal Australian Navy MH-60R helicopters.
This firm-fixed-price, cost-plus-fixed-fee, cost-reimbursable indefinite-delivery/indefinite-quantity contract will largely occur in Yerriyong, Australia (79 percent) with most of the rest in Owego (18 percent).
The Australian work is expected to be finished by Janurary 2024. No funds were obligated at time of award but will be when individual orders are issued.