The Army has awarded Lockheed Martin [LMT] an accelerated contract to begin production on five additional Sentinel A4 radars, the new variant of the system, while also speeding up the overall program by six months, according to the company.
The new deal for additional radars arrives just two years after Lockheed Martin won a $281 million contract covering production of 18 Sentinel A4 systems.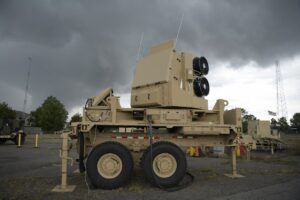 "From the beginning, this program was always focused on beating any program requirements and delivery requirements by at least six months," Mark Mekker, Lockheed Martin's director of Army radars, told Defense Daily during a briefing at the Association of the United States Army conference.
Lockheed Martin was awarded the contract in September 2019 to deliver the new A4 version of the AN/MPQ-64 Sentinel radar which provides air surveillance and fire control data, and to transition the system to Active Electronically Scanned Array technology (Defense Daily, Sept. 25 2019).
The upgraded version of the radar is designed to identify and track multiple threats simultaneously, including cruise missiles, unmanned aerial systems, rotary wing and fixed wing aircraft, and rocket, artillery, and mortar threats
The A4 will replace the Sentinel A3, which was built by Thales and Raytheon Technologies [RTX].
Lockheed Martin completed production of the first Sentinel A4 this summer, with the first five radars going through testing ahead of delivery to the Army in March 2022.
"What the Army did a couple months ago was they saw where we were with the system, the maturity of it and that we're in our testing and integration program and seeing really good results. They ordered an additional five systems so that they can use those systems as user evaluation systems during their operational test. So they'll go to other users in the Army that use them tactically to get feedback into the system sooner rather than later," Mekker said.
Lockheed Martin said the long-lead deal for five additional radars was awarded "two years earlier in the development process than in previous programs."
"We were able to do a lot of virtual reviews for the preliminary design review and critical design review in the midst of the COVID pandemic. The great partnership with the Army allowed us to make decisions quickly and help move the program forward. Also, we leveraged digital transformation from the standpoint of model-based engineering. We were able to do all of our models for the hardware and also share that with our supply base, so that helped get the product progressed along faster versus waiting for the traditional drawings to get released," David Kenneweg, a senior program official for Lockheed Martin, told Defense Daily.