Lockheed Martin [LMT] said on Monday it has delivered its production unit 100-kW-range High Energy Laser and Integrated Optical-dazzler with Surveillance (HELIOS) to the Navy for installment on a destroyer later this year and said it has additional capability beyond the initial requirements.
HELIOS sends out a single laser beam to relatively small targets like unmanned Aircraft Systems (UAS) and small fast attack boats, provides a counter-UAS intelligence, surveillance and reconnaissance dazzler capability, and feeds additional ISR data into a ship's combat system. The dazzler uses a low power setting to reduce or confuse hostile target ISR capabilities. The system is fully integrated with the Aegis Combat System.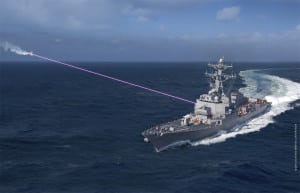 "It gives you the ability to dial in and out the capability that's right for the mission. And I think the most important thing about this is it's an endless magazine. As we get ready to install this system on its first DDG very shortly, what we see is…as long as the ship's got power, the system can fire. You don't run out of bullets, you don't run out of lasers, you just keep going," Joe Ottaviano, Lockheed Martin director of Advanced Product Solutions business division, said in a press call Monday.
Ottaviano said HELIOS was tested at full power at the company's test facility in Morristown, N.J., before delivering to the Navy at Surface Combat Systems Center Wallops Island, Va. He characterized this as a fast-track program, first awarded in summer 2018, exercises were completed with fleet representatives in November to December 2020, and was then ready for delivery last month.
At Wallops Island, HELIOS is due to undergo additional Navy testing with the Aegis Combat System and full power tests. Thereafter, it will be installed on a Flight IIA DDG-51 Arleigh Burke-class destroyer later this year during an maintenance availability.
Ottaviano underscored HELIOS can provide additional capability beyond the original requirement.
"The system we delivered – it can be upgraded to a higher power just in the footprint it's in and the Navy is looking…at other platform capabilities where you would want to increase the power and that power is available today. You don't need to wait for two to three to four years. You can do it now."
HELIOS was originally designed to be a 60 kW laser system, which the Pentagon is categorizing as counting as a 100 kW-class laser.
"What we delivered was above that. Obviously, you want to give some margin as you take on some of the higher-end things that the system was designed to defeat. So that's what we delivered."
While he would not go into specific power levels it is capable of reaching, he said the current 100 kw-class laser modules can be popped out and replaced with modules delivering a higher capability in the same footprint.
Lockheed Martin Naval Combat and Missile Defense business division director Jason Wrigley highlighted the cooperation within the industry-government team on this program.
"We received laser weapon system control software from the Naval Surface Warfare Center Dahlgren Division as well as Lockheed Martin team-developed additional Aegis software as well to accomplish the integration," Wrigley said during the press call.
He said the company sees "a lot of applicability for this to other classes of ships," particularly aircraft carriers given the company's role as the combat system engineering agent (CSEA) for the carrier's ship self-defense system.
"We can leverage our insights from integrating HELIOS in Aegis to integrating HELIOS on the carrier, should the Navy make the decision to do that," Wrigley continued.
In 2019 the Navy awarded Lockheed Martin a $56 million contract to become the new CSEA for the Ship Self Defense System (SSDS), which covers non-Aegis ships (Defense Daily, Aug. 15, 2019).
The SSDS integrates sensors and weapons to defend non-Aegis equipped vessels like carriers and amphibious ships. The company was already the CSEA for the Aegis Combat System.
Ottaviano agreed since they have already demonstrated HELIOS at an undisclosed higher power capability, "there's a lot of interest…on other platforms now given that we've shown with the existing footprint – I can just replace the fiber laser modules and the system continues to grow."
He said Lockheed Martin said the modules are "sized to go to significantly higher power than the original requirements and that was done on purpose, to provide an enterprise solution to the capability."
While the Pentagon is trying to develop laser weapons at the 300 and 500 kW class to defeat larger targets, Ottaviano said that requires more power than what is capable in the HELIOS system.
However, "we're finding the 100 kW-class, the 150kW-class has significant capability against some of the most stressing threats that the Navy faces," he added, without directly referencing what threats he means.
Ottaviano noted beyond defending against UAS, fast attack boats and some missiles, when integrated with Aegis, HELIOS can provide not only self-defense, but area defense.
"We're finding even at the 60 kW level, HELIOS brings area defense capability that wasn't originally planned and because of the capability that this particular laser weapon brings there's a lot of capability it does have."
While not expanding on what higher power versions can defeat additionally, Ottaviano said increasing the power on a system like HELIOS largely increases the distance at which it can engage and decrease the time the laser needs to defeat a target.