GPS III Launch. The second GPS III satellite successfully launched Thursday morning aboard ULA's Delta IV rocket. Air Force and Lockheed Martin engineers declared they had full control of the space vehicle slowly after separation. It was the final launch for ULA's Delta IV medium "single stick" variant.
L3Harris Delivers Latest GPS III Payload.
On the eve of the GPS III launch, L3Harris said it has delivered the eighth GPS III navigation payload to Lockheed Martin. The company is providing the payloads for both the 10 GPS III satellites and up to 22 GPS III Follow-On systems. Payloads are fully integrated on GPS III space vehicles 3-6, with the third system deemed available for launch and the other three in various stages of testing at Lockheed Martin.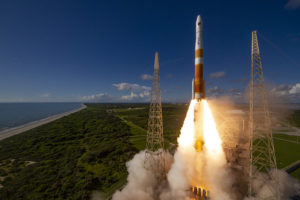 Two Less Dem Candidates… Rep. Seth Moulton (D-Mass.) has ended his campaign to become the Democratic presidential nominee in 2020, he said Friday at the DNC summer meeting in San Francisco. The Marine Corps veteran and House Armed Service Committee member committed to running for another term in 2020 and to support the eventual Democratic nominee for president.
… Inslee Out As Well. Former Washington Governor Jay Inslee said Wednesday that his own presidential campaign had come to an end. The former lawmaker was running primarily on a climate change platform, and said he would not consider running for any other office, except maybe as state governor once more. With Moulton and Inslee out, more than 20 Democratic candidates remain in the presidential race, although only 10 so far have qualified for the third presidential debate to be held Sept. 12.
Hickenlooper to Senate? Meanwhile, former Colorado Governor John Hickenlooper announced Thursday that instead of running for president, he will join the Democratic primary to challenge Sen. Cory Gardner (R-Colo.) in 2020. He joins about a dozen other candidates vying for the nomination. Gardner is a member of the Senate Foreign Relations Committee, the Commerce, Science and Transportation Committee, and the Energy and Natural Resources Committee. Hickenlooper pulled out of the Democratic race Aug. 15.
Joe Walsh as Trump Challenger. Former politician and current radio host Joe Walsh said Thursday that he is mulling a Republican primary challenge against President Trump. He would join former Massachusetts Governor Bill Weld, who announced his candidacy this past April. Walsh served one term as a congressman for Illinois' 8th district from 2011 to 2013, during which he served on the House Committees on Homeland Security, Small Business and Oversight and Government Reform.
C-130 Standdown Complete. Air Mobility Command confirmed in a Friday email that the Air Force has completed its inspection of 113 C-130s, about two weeks after pulling 25 percent of the transport aircraft from the fleet due to the discover of unusual cracks in the wing joints. Out of those aircraft, 112 have been cleared to return to operational duty. The remaining 10 aircraft that were identified were in depot at the time of the standdown and will be inspected during the course of their scheduled depot inspections and maintenance, an AMC spokesperson said.
Major F-35 Contract Mod. The Navy on Friday awarded Lockheed Martin over $2.4 billion for a modification to a firm-fixed-price IDIQ contract for F-35 spare parts. The contract involves all F-35 variants, including the Marine Corps, Navy, Air Force, non-U.S. DoD participants and FMS customers. Spares to be procured include global spares packages, base spares packages, deployment spares packages, afloat spares packages and associated consumables, per the award notice. Work will be performed in the United States to include Texas, California, New York, New Hampshire, Florida, Iowa, Arizona, Connecticut, Maryland, Georgia, and Illinois, along with the United Kingdom and the Netherlands. "All orders are expected to be placed no later than December 2020. No funds will be obligated at time of award, funds will be obligated on individual delivery orders as they are issued," the notice said. The Naval Air Systems Command, Patuxent River, Maryland, is the contracting activity.
LAIRCM Contract. The Air Force awarded Northrop Grumman a $200 million order for its Large Aircraft Infrared Countermeasure (LAIRCM) systems and support, part of a $3.6 billion IDIQ contract awarded earlier this year. The system protects aircrews by automatically detecting, tracking and jamming incoming infrared threats.
Retired Air Force Officer Named Metis VP. Metis Technology Solutions, a science and engineering firm based in Albuquerque, New Mexico, has named James Theiss as its first vice president of space and IRAD programs. Theiss, a retired Air Force lieutenant colonel, currently manages Metis work in NASA centers as well as for programs at AFRL and Air Force Materiel Command. He previously served as the company's space division manager, offering management for projects in support of the NASA Jet Propulsion Laboratory, support for the service's KC-46 Aerial Refueling Tanker and AFRL's Space Vehicles Directorate Engineering and Integration.
Air Force Contract. The Air Force on Aug. 19 awarded Radiance Technologies Inc. a $99.9 million cost-plus-fixed-fee contract for distributed, automated and intelligent hardware and software security. The effort includes "the design, development, integration and delivery of an adaptable set of models and tools, which can be used to provide next-generation detailed, comprehensive and automated cyber vulnerability assessment capabilities." Those capabilities could also be tailored for DoD missions, and help perform vulnerability assessments on distributed systems such as Internet of Things components, per the award notice. Work will be performed in Huntsville, Alabama, and is expected to be completed by Aug. 19, 2024. This award is the result of a competitive acquisition and two offers were received. AFRL in Rome, New York, is the contracting activity.
Air Force General Officer Assignments. Three general officers received new assignments moving between the Air Force and the Joint Staff, the Pentagon said Thursday. Maj. Gen. Peter Lambert, deputy director for ISR operations at the Joint Staff, will now become the Air Force's assistant deputy chief of staff for ISR. Maj. Gen. Jeffrey B. Taliaferro, who was the director of operations for U.S. Northern Command at Peterson AFB, Colorado, will become the vice director, operations for the Joint Staff at the Pentagon.Brig. Gen. James R. Cluff, Air Force director of remotely piloted aircraft and airborne ISR, will become the deputy director for ISR operations on the Joint Staff.
SURTASS. The Navy issued a market survey to find small business capabilities and solicit information from potential sources to provide lead integration support for the Surveillance Towed Array Sensor System (SURTASS) program. SURTASS provides mobile detection, tracking, and reporting of submarine targets to cue tactical weapons platforms. The support work covers production and integration of a new Expeditionary SURTASS (SURTASS-E) and "engineering, integration, configuration management, and operational sustainment support for mission systems installed aboard all SURTASS platforms." The platforms include the Navy's Auxiliary General Ocean Surveillance (T-AGOS) ships, Quick Reaction Surveillance System ships, the next generation T-AGOS(X) ships, and Japanese auxiliary ocean surveillance ships. Responses are due by Sept. 20.
Unmanned. A Navy official said the service needs to find a new way to describe capability beyond ship numbers as the Navy starts adopting larger numbers of various unmanned platforms. "No doubt we envision lots of unmanned vehicles, provided the capacity that's needed…it's very difficult to ascribe and account for the capabilities and quantify that in a manner that people understand, even ourselves," Capt. Pete Small, program manager for unmanned maritime systems (PMS 406), said at the AUVSI Unmanned Systems Defense Conference on Aug. 20. While ship count is a critical part of how the Navy works, "it doesn't capture the nuances and intricacies of the new technology that's available to us," Small said. He envisions a lot of new unmanned capabilities being deployed with the fleet, but said the Navy needs to improve how it talks about and describes that to improve to align and describe its vision.
AUVs. The Naval Undersea Warfare Center awarded Teledyne Technologies a contract worth up to $22 million to supply autonomous underwater vehicles (AUVs) and related monitoring and communications acoustic systems, the company said Aug. 19. The initial award is for $5.4 million in 2019 and includes options to raise the total value to $22.2 million through December 2024. The AUVs are designed to carry out complex survey missions for defense, scientific, and commercial applications. Teledyne said its vehicles have a modular architecture that allows sensors to be integrated and battery packs to be exchanged in the field. While the company had provided AUVs to the government for over 10 years, "We are exceptionally pleased now to have received our first significant order from the U.S. Navy for Teledyne's self-propelled autonomous underwater vehicles," Al Pichelli, president and Chief Executive Officer of Teledyne, said in a statement.
ESSM. Naval Sea Systems Command (NAVSEA) recently awarded Raytheon a $190.5 million modification for materials and spares to support FY 2019 Evolved Sea Sparrow Missile (ESSM) Block 2 low-rate initial production (LRIP) requirements. This will specifically procure remaining materials in support of ESSM FY 2019 LRIP Lots 1-3 all-up rounds and spares requirements. ESSM is an international cooperative effort to design and procure ship defense ESSM missiles. Fifty percent of the work will occur in Tucson, Ariz., with the remaining split among various locations in the U.S., Australia, Norway, Canada, Germany, the Netherlands, Spain, Greece, and Turkey. The work is expected to be finished by March 2023.
UNITAS 60. The 60th annual UNITAS multinational exercise began in Rio de janeiro, Brazil on Aug. 19. Hosted by the Brazilian Navy this year, the exercise will feature operations off the coast focusing on demonstrating maritime cooperation in a humanitarian assistance and disaster relief response scenario as a way to develop a multinational maritime task force. The exercise will feature both Atlantic and amphibious phases and include naval forces from the U.S., Brazil, Chile, Colombia, Ecuador, Great Britain, Japan, Mexico, Panama, Paraguay, Peru, and Portugal. UNITAS generally trains Navy and Marine Corps forces to conduct joint operations and increase interoperability. The American amphibious ship USS Carter Hall (LSD-50) is participating with 350 sailors and Marines onboard. UNITAS 60 has 14 surface vessels, eight helicopters, five fixed-wing aircraft, and one submarine participating.
SEACAT. The U.S. Navy and 10 partners began the 18th Southeast Asia Cooperation and Training (SEACAT) exercise in Singapore on Aug. 19. SEACAT seeks to have regional partners engage in a real world and real time training to enhance abilities to communicate, coordinate, and counter illegal smuggling and piracy. It focuses on realistic training scenarios where participants practice identifying, tracking, and boarding vessels participating in the exercise. Participants include the U.S., Bangladesh, Brunei, Cambodia, Indonesia, Malaysia, the Philippines, Singapore, Sri Lanka, Thailand, and Vietnam. SEACAT 2019 includes 14 ships and over 400 personnel.
Raytheon Expansion. Raytheon said it is expanding its presence in Texas with a new 200,000 square-foot facility and will add 500 high-technology jobs at its Space and Airborne Systems segment headquarters in McKinney. The investment "shows we are serious about our presence in Texas and that we are here to stay," said Roy Azevedo, president of SAS. Construction will be completed in late 2020. Raytheon said recent research from the Univ. of North Texas Economic Research Group shows that the company's business operations in North Texas contribute $4.8 billion to the state's economy.
Cyber Response Doctrine. The U.S. government doesn't have a well-honed response plan for helping localities in the wake of cyber incidents such as the recent wave of ransomware attacks used to hold hostage some local government computer networks, said Chris Krebs, the director of the Department of Homeland Security Cybersecurity and Infrastructure Security Agency. The federal government and states have "decades of doctrine" for working together on hurricane response, but "on the cyber security side, there's not a lot of doctrine and there's even less experience," he said at Auburn Univ. This includes tackling the question of where additional funding comes from for these challenges, he said. CISA wants to be part of creating a cyber incident response doctrine that includes best practices, roles and responsibilities, training and exercises, and information sharing, he said.
…Don't Pay. Ransomware is getting worse, Krebs said, but he is against paying off the hostage takers, who he added reinvest the ransom in their business models and emboldens them to continue these types of attacks. Paying the ransom is an incentive to these criminals to go after a locality's "neighbor," he said. Krebs cautioned about trusting criminals, pointing out that after some localities have paid the hackers, decryption of the malware used to shut down network operations "isn't complete."
Nice Bookings. Science Applications International Corp. said it received $812 million in contract awards in late July from various national security and intelligence agency customers. The spate of recent awards comes six months after SAIC acquired Engility, a deal that expanded its business with the intelligence community. SAIC reports its second quarter financial results on Sept. 5. In the first quarter, ended May 3, SAIC posted $1.6 billion in sales.
Dual Commissioning. The Coast Guard on Saturday is scheduled to commission its two newest 418-foot National Security Cutters, the Kimball (WMSL 756) and Midgett (WMSL 757) at Coast Guard Base Honolulu. The Kimball arrived in Hawaii last Dec. 22 and Midgett, after participating with the Navy in a drug interdiction in the Pacific in late July, arrived on Aug. 16. The two Huntington Ingalls Industries-built ships will be homeported in Honolulu and will conduct missions in the Pacific area from South America to the Bering Sea.
Heritage/Army Modernization. A new report from the Heritage Foundation suggested the Army reconsider the order of its six modernization priorities to better align with its new Multi-Domain Operations warfighting concept. Thomas Spoehr, director of the Heritage Foundation's Center of National Defense, authored the report and makes a case the Army should move 'Next-Generation Combat Vehicle' and 'Future Vertical Lift' efforts to the bottom fifth and sixth slots, while shifting 'Tactical Network' and 'Integrated Air and Missile Defense' higher up the list. The Army's new MDO concept starts to outline how the Army would conduct in a future fight against peer competitors such as Russia and China, which Spoehr said would require a lesser role for future combat vehicle and aircraft platforms. Instead, he wrote the Army should fully commit to its overall top priority, Long Range Precision Fires, while ensuring the network is fully modernized and resilient before moving onto programs that go after advanced autonomy and next-generation capabilities.
Applied Insight/AF Cyber. Applied Insight said Aug.22 it has received a $16 million task order from the Air Force to expand its cyber security work to include the service's Air Mobility Command. The company's cyber security team is tasked with providing technical services to support AMC's command and control systems and ensuring network resiliency. "A major emphasis will be placed on standardizing security documentation and the engineering, security testing, auditing and intrusion detection functions across the C2 program as part of the ongoing effort to ensure each system is accredited and certified," Applied Insight officials said in a statement.
BAE Systems/XTS Guard. BAE Systems has released the latest version of its XTS guard,which provides intelligence community customers with secure access to geospatial imagery and data, the company said on Aug. 19. The new XTS Guard 7 is a cyber security appliance tool that is integrated between networks with varying levels of security. "We created a superior product predicated on design patterns outlined by the NSA, and have proven XTS Guard 7's readiness to deliver operational success for a number of U.S. government entities and agencies," Douglas Steil, BAE's general manager of cyber security products, said in a statement. BAE said it is offering an upgrade path to customers using XTS Guard 5 to transition to the new Guard 7 platform.