Amazon Web Services' [AMZN] legal challenge of the potential $10 billion Joint Enterprise Defense Infrastructure (JEDI) cloud contract can move forward after a federal court denied motions from the Department of Justice and Microsoft
[MSFT] to dismiss the claim.
AWS noted the decision will allow the court to review its allegations that former President DonaldTrump interfered in the contract award, where the company lost out to Microsoft.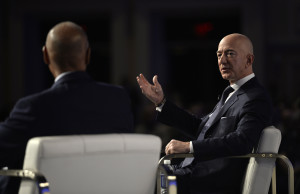 "The record of improper influence by former President Trump is disturbing, and we are pleased the court will review the remarkable impact it had on the JEDI contract award. AWS continues to be the superior technical choice, the less expensive choice, and would provide the best value to the DoD and the American taxpayer. We continue to look forward to the court's review of the many material flaws in the DoD's evaluation, and we remain absolutely committed to ensuring that the Department has access to the best technology at the best price," an AWS spokesperson said in a statement.
Microsoft said the "procedural ruling changes little," and noted the company continues to prepare internally to resume JEDI work which remains paused while the court considers AWS' legal complaint.
"Not once, but twice, professional procurement staff at the DoD chose Microsoft after a thorough review. Many other large and sophisticated customers make the same choice every week. We've continued for more than a year to do the internal work necessary to move forward on JEDI quickly, and we continue to work with DoD, as we have for more than 40 years, on mission critical initiatives like supporting its rapid shift to remote work and the Army's IVAS," Frank X. Shaw, corporate vice president of Microsoft Communications, said in a statement.
In September, the Pentagon re-awarded the JEDI contract to Microsoft following a court-ordered review period where DoD was required to assess technical aspects of the contract and allow both companies to re-bid for the work (Defense Daily, Sept. 4).
Microsoft originally beat out AWS for the JEDI cloud contract in October 2019, following a series of program delays, allegations of conflict of interest, pre-award protests and congressional and industry pushback over the Pentagon's decision to go with a single-award approach.
In January, the Pentagon said if AWS' motion is not dismissed it could "elongate the [JEDI] timeline significantly" and lead the department to reassess its strategy for the entire program (Defense Daily, Jan. 29).