The Army remains on track for initial fielding in 2023 of its new Extended Range Cannon Artillery (ERCA) system, designed to hit targets out to 70 kilometers, with plans this year to demonstrate an autoloader for the cannon and conduct a shot with the new Excalibur Hit-to-Kill guided munition.
Brig. Gen. John Rafferty, director of the Army's Long Range Precision Fires Cross Functional Team, told Defense Daily his team is seeing success with a small business cohort program aimed at finding "alternative ways to help improve the [ERCA] rate of fire," with plans to select five companies in the coming months to refine their concepts.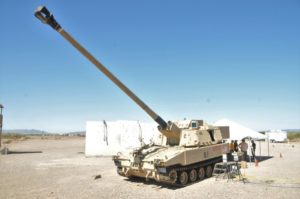 "We're in the phase of fine tuning the system. We've demonstrated the capability. That doesn't mean it's ready for production yet. There's still some more developmental testing and work that needs to get done, and we're teamed up doing that between acquisition, science and technology, industry partners and our test community," Rafferty said. "Our approach is to get the range, improve the lethality and then improve the rate of fire."
The Army's ERCA prototype involves putting a 58-caliber, 30-foot gun tube on BAE Systems' M109A7 self-propelled howitzer chassis, in place of the current 39-caliber, 20-feet capability, with the goal of doubling the current range with the ability to fire six to 10 rounds per minute. 
"The Extended Range Cannon Artillery is a system of systems. It's the self-propelled artillery platform, that's what gets most of the attention. It's a big combat vehicle with a very long gun tube on it. But it also requires supercharged propellant to generate muzzle velocities to get out to 70 kilometers. It requires a new rocket-assisted projectile to fly out to those ranges. And it requires a course-correcting fuze to be accurate at those extended ranges," Rafferty said.
While the ERCA prototype has had several successful demonstrations to date, to include hitting a target 70 kilometers away with an extended-range Excalibur munition in December, Rafferty said a goal for 2021 is "increase the lethality that we'll deliver in 2023."
"The lethality that we'll achieve this year is with Excalibur Hit-To-Kill, that's a round with a shaped charge [which gives] the ability to penetrate enemy armor, and a sensor that will find the target. So instead of being course-correcting it's target-seeking, which will help us destroy more heavily protected systems at extended ranges," Rafferty said.
Rafferty said the demonstration with Excalibur Hit-To-Kill will take place sometime between late summer and early fall of this year.
Later this year, the Army is expecting to roll out additional ERCA prototypes from its lab as it continues characterization testing in the build up to ultimately delivering 18 prototype systems to a first unit in 2023 for operational assessment. 
"This characterization testing is really a teamed up effort with Army Test and Evaluation Command to measure every single thing on this prototype, from blast overpressure when the round goes off to its mobility, acceleration and durability," Rafferty said. "At the end of the characterization testing, it will really signify a transition from the lab to the acquisition team who will start to build more prototypes."
Beyond the full capability auto-loader demonstration this summer, LRPF CFT is continuing to work with 15 small businesses in the robotics and autonomy space on solutions that could increase ERCA's rate of fire.
"I don't really want an autoloader. What the Army needs is a faster rate of fire. And if there are other ways to do that with autonomous functions that address some of the necessary duties inside of the howitzer and gets the rate of fire that we need and it costs less, we can do it faster and it weighs less that would be a great alternative," Rafferty said.
The Army Applications Lab-led Special Program Awards for Required Technology Needs (SPARTN) cohort is currently going through an 18-week sprint, with plans in March to select five companies that Rafferty said will help the Army "know what path we're on" for increasing the rate of fire.
The small businesses participating in the SPARTN Fire Faster cohort are ADA Technologies, ARM Automation, Asymmetric Technologies, Carnegie Robotics, Cybernet Systems Corp., Dynovas Inc., GaN Corp., H.A. Eckhart & Associates, Lynntech Inc., NextGen Aeronautics, Physical Sciences Inc., Quality Manufacturing Inc., RE2 Inc., Southie Autonomy and Triton Systems. 
"To get where we are with the government-developed autoloader, it's taken years of science and technology investment. What we're looking for from our new small business partners is to show us what's already out there that can be applied to this problem in a way that hasn't been done before," Rafferty said.