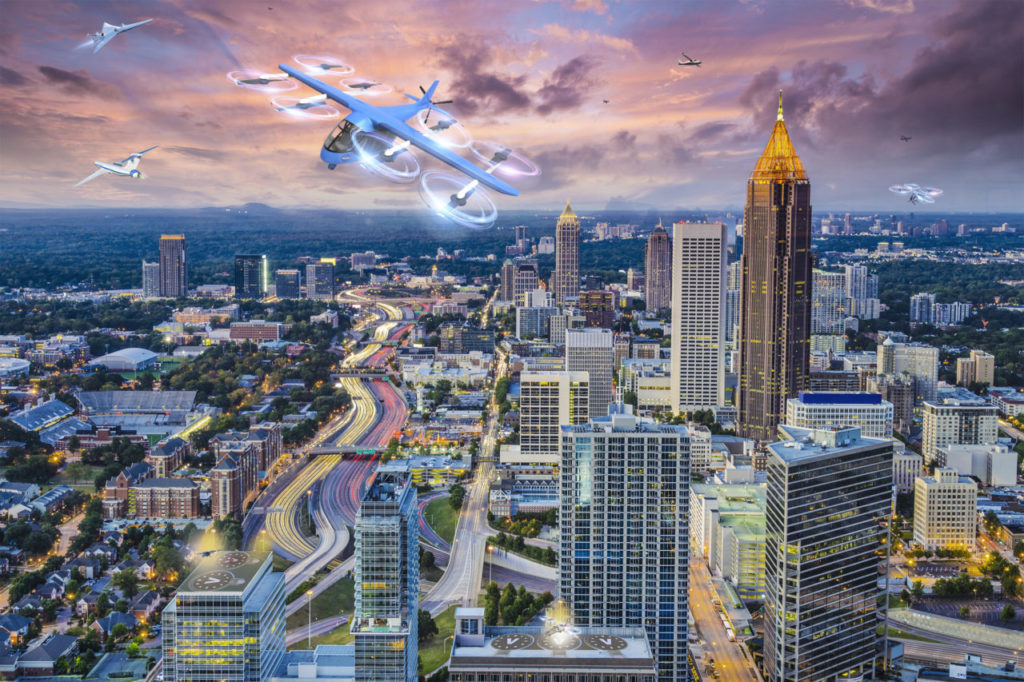 The U.S. Air Force is expanding its engagement with transformative VTOL aircraft developers, seeking to analyze, certify and eventually procure electric and hybrid-electric aircraft that are currently under development primarily for commercial passenger and cargo transport applications.
In a solicitation set for release on Tuesday, the Air Force's Agility Prime project will offer funding and access to government resources in exchange for participation in a learning campaign to include operationally relevant flight demonstrations, with potential for acquisition.
"It's going to be a challenge-based acquisition plan, so we'll have different durations of flight and payloads that have to be carried," Air Force acquisition chief Will Roper told reporters of the Agility Prime project. "And if you pass the hurdle then you'll move further down the wickets of getting safety certified by the Air Force and moving on to a procurement contract."
Submissions are requested from developers of electric or hybrid VTOL aircraft that can demonstrate they are capable of "executing operationally relevant and repeatable flights in 2020," rather than those seeking early or developmental funding.
Aircraft applying to participate must make their first full-scale flight prior to Dec. 17, 2020, and be capable of carry 3-8 personnel greater than 100 miles at speeds exceeding 100 mph, with an endurance over 60 minutes — capabilities that very few currently-flying eVTOLs claim to have. One such aircraft is Joby Aviation's S4, which the company claims is capable of carrying a pilot and four passengers up to 150 miles at speeds up to 200 mph. The company recently raised $590 million in funding, with $394 million provided by Toyota [TM].
Companies selected for further participation will receive access to government expertise and resources — wind tunnels, airspace, electro-magnetic immunity (EMI) testing, acoustic analysis — and a fast-track toward a non-commercial airworthiness certification. Developers of related technologies — autonomy systems, aircraft subsystems, sense-and-avoid architectures, sensors, and many more — are also encouraged to detail their solutions.
Though the military has interest in procuring eVTOLs, particularly for logistics use, this release is part of a broader White House-led government effort to support the massive commercial investments that have been made in eVTOL aircraft.
It's also an attempt to leverage Pentagon resources — contracting, safety analysis and airworthiness certification capabilities — to enable potential use of these aircraft by other government agencies before civil certification, particularly in public-use applications. Interested agencies may include the Federal Emergency Management Agency (FEMA), Department of Homeland Security, Forest Service, and the Department of Agriculture.
But there is an important military angle, too — and a lesson learned from the small UAS market, where Chinese firms dominate the supply chain and some government departments have grounded their drone fleets over data security concerns. With the emergence of distributed electric aviation likely to drive dual-use innovation for decades to come, the Pentagon is eager to avoid making the same mistake.
"We want to catalyze the commercial market by bringing our military market to bear, to make sure that that commercial market catalyzes first in the U.S. — that's equally important as providing the capability to the warfighter," said Roper. "What we don't want to happen is the same thing that happened in the small drone migration to China. It was a commercial technology, the Pentagon didn't take a proactive stance on it, and now most of that supply chain has moved to China.
"If we had realized that commercial trend and had shown that the Pentagon is willing to pay a higher price point for a trusted supply chain drone, we probably could have kept part of the market here," Roper added.
Roper has spent a significant amount of time meeting with venture capital firms and other sources of capital to drum up interest and ensure government support for the sector, including recently spending a week in Silicon Valley. He and other officials within the Pentagon and the White House working on eVTOL aircraft policy hope their efforts will lessen the technical, regulatory and market risks involved with development of a mostly-new market, creating near-term revenue streams while the Federal Aviation Administration, local authorities and infrastructure developers work to enable larger commercial market opportunities.
Agility Prime was not allocated any funding for fiscal year 2021 under the White House budget request released earlier this month, though a spokesperson for the U.S. Air Force assured Defense Daily the program is "alive and well." Sources close to the program indicate they are seeking $25 million, plus $10 million left over from last year's equivalent allocation, to execute planned activities related to eVTOLs and urban air mobility.